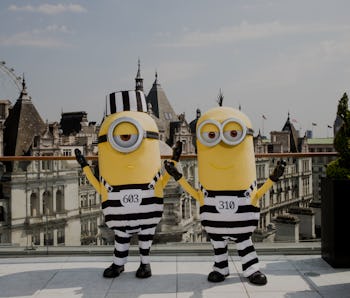 Entertainment
The 10 Most Ridiculous Minions Promos This Year Alone
Bello, we are your new overlords.
Getty Images / Tristan Fewings
Universal has pushed the Minions with the kind of resources and vigor that would make missionaries jealous. In 2015, the company put together a $600 million campaign to promote](http://deadline.com/2015/07/minions-promotional-push-biggest-in-studio-history-1201471603/) the spin-off movie featuring the devious, yellow, child-sized tic tac monsters. The little nuisances took over the internet, grocery stores, highways, Amazon delivery boxes, public spaces, and your dreams.
The complete saturation paid off, as Minions made $1.16 billion at the worldwide box office — including a whopping $823 million in overseas markets. That makes sense — Minions speak gibberish and act like silly little goobers, making them easily exportable across the world (they may just be the best ambassadors that America has right now). And Universal clearly took that international appeal thing to heart, because the marketing plan for the latest movie in the franchise, Despicable Me 3, is filled with promotions tailored to different markets all over the globe.
Because it inevitably worked — the movie made $192 million in its opening weekend — here's a look at some of this year's shrewdest and most insane minion-fueled promos, because corporate synergy is the ultimate god.
10. Minions Take Over Snapchat
This one seems obvious — movies and TV shows sponsoring temporary new Snapchat filters is almost rote at this point. Just this weekend, the much smaller (but very excellent) Edgar Wright movie Baby Driver gave millennials on Snapchat the chance to look like cool getaway drivers. But notably, the Despicable Me arrangement was the first to use Snapchat's augmented reality option, World Lenses, which placed minions in the foreground of photos, allowing users to take photos of candy-colored dystopias. This is the best use of the tech made by our best and brightest minds! And as you can see above, they also went with the classic filters, for lonely people.
9. Minions Take Over Local Ice Cream Shops
All politics are local; so are all good movie campaigns. While minions may fill up national TV ad buys and pop up everywhere on the internet, Universal made sure to touch as many potential ticket-buyers as possible — going so far as to have people dress up in giant costumes in the searing heat and show up at local businesses in middle America, like this ice cream shop in Ohio
8. Minions Take Over Zumba
Seriously, Universal was devoted to appealing to every last person, even those who take a time machine to exercise class.
7. Minions Take Over Australian Travelodges
During the month of June, parents who love their kids and hate themselves could reserve a minions-themed "family room" at Travelodges in Australia. The rooms came decked out in Minions bedding, offered Minions toiletries, and had toys and other details scattered throughout.
6. Minions Take Over Canada Day
"Canadians treasure their unique culture and history. So it only made sense to have big walking minions on hand at Canada Day events that marked the country's 150th anniversary."
5. Minions Take Over a Cruise Ship
Australia's travel industry really took to these little guys. Not only did they spread out across budget hotels across the country, the minions also took over a Carnival cruise ship. And boy did the suits at Carnival corporate get a kick out of it.
"We've all seen the Despicable Me movies but we had no idea that these little yellow characters could get up to so much mischief on our ship," the company's Vice President Jennifer Vandekreeke told the site ETB Travel in totally spontaneous comments. "They went nuts over the fruit carving, couldn't get enough of the Waterpark, where they soaked up some sun and playfully tried to shuffle one another down the Twister waterslide."
4. Minions Take Over McDonalds
Having the sentient glowing chicken McNuggets incorporated into the McMenu is nothing McNew — they're a perfect Happy Meal prize — but McDonalds in southeast Asia took it to another level. Despicable Me 3 hijacked entire menus in Thailand and Singapore, with minion-shaped nuggets, banana-flavored drinks, and inappropriate ads like the one above.
3. Minions Take Over Chinese Bicycles
China is the second-largest movie market in the world, and the promised land for Hollywood studios. Characters like minions, apolitical and universally understood, are the perfect export to that growing market. And yet Minions only made $68 million in China, so Universal decided to take to the streets to promote it. Literally, in the case of the ads on these bike-share bicycles.
2. Minions Take Over a Japanese Baseball Stadium
Japanese baseball teams love their mascots — the Yomiuri Giants, for example, have a whole family of bunnies called the Giabits — and so the minions must have fit right in at the Fighters' stadium in Hokkaido. A little too good, maybe — a recent promotion asked fans to hunt down the jail-breaking nuclear potatoes in exchange for a prize probably related to minions.
1. Minions Take Over NYC Taxi Cabs
You can't go more than a few blocks in Manhattan without seeing one of the 1200 cabs outfitted with special minion taxi toppers. A full half of them are 3D, which looks insane, but are also a bit helpful when you're desperately looking for a cab late at night or when you're late for work because the subways are garbage.