'Overwatch' "Teabagging" Controversy Has Ignited an Internet Firestorm
This NSFW practice is basically in-game sexual assault — but many angry gamers don't see what all the fuss is about.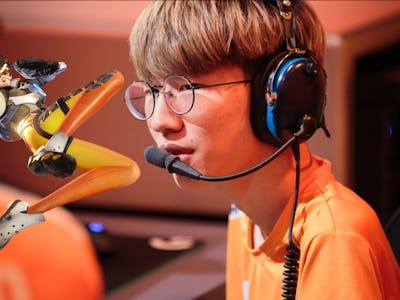 Overwatch League / Blizzard Entertainment
Controversy hit the Overwatch pro community on Saturday when Jae-hyeok "Carpe" Lee of the Philadelphia Fusion eliminated Gi-hyeon "Ado" Chon of Shanghai Dragons during a match. But it wasn't the victory that proved controversial — it's what happened next. Carpe had his avatar character stand over the dead body of his opponent, and he pretended to drop his avatar's genitals on Ado's head. From one Tracer main to another, this was perhaps the single most insulting thing Carpe could do, and the audience's vocal negative reaction showed just how uncool it was. But the action also raises compelling questions about how respectful pro gamers should be.
On Saturday, Philadelphia Fusion and Shanghai Dragons faced off in an intense and close Overwatch League match. Philadelphia was defending the second objective point on Temple of Anubis. For Shanghai, Ado had just killed Fragi's Winston, and Carpe took immediate revenge by finishing a wounded Ado off. That's when Carpe threw in some teabagging along with a playful little wave using the "Hello" emote. This is the gaming equivalent of flipping someone off and sneering in their dead face. Is Carpe merely participating in a common gaming practice? Or should he be held to a higher standard as a professional game?
Here's the offending moment in question:
In the Overwatch scene (and plenty of locker rooms), "teabagging" is an incredibly insulting gesture that involves basically humping someone in the face. Urban Dictionary can tell you the more graphic details of the IRL version, but an approximation has been used for years in competitive gaming as a kind of victory dance. It's easy enough to execute in almost every competitive shooter video game, as the genre is full of crouching mechanics and dead bodies. Despite it happening to digital avatars, the practice is still widely considered in poor taste. Teabagging is a horrifying act of sexual assault in real-life, which is why so many take extreme offense to its representation in video games.
Teabagging is a fairly common practice in many competitive online games (anecdotally a very toxic community to begin with). Getting teabagged is always a frustrating experience, mainly because it's adding insult to the injury of in-game death, and even worse, it foster an unwelcome environment for those that might want to avoid triggering examples of sexual abuse. Many people in the wider gaming community see it as a permissible practice, including veteran esports journalist Richard Lewis, who posted a lengthy video to YouTube all about it:
Typical of the wider gaming community, tons of gamers are complaining about the people who are supposedly complaining about the teabagging, spewing vitriol about "SJWs". Yet it's virtually impossible to find anybody that actually complained about the teabagging.
Esports journalist Rod Breslau called it a "non-issue":
Another esports journalist Duncan "Thorin" Shields raised the solid point about whether it's better or worse than, you know, killing people in the game:
Some fans took a somewhat comical approach, like another esports journalist Cass Marshall:
There are probably lots of Overwatch League fans with strong negative opinions about what happened. After Carpe teabagged Ado, you can hear fans audibly booing in the crowd. For all we know, that could just be the Shanghai Dragons fans who didn't want to see Ado disrespected, but the more sensible voices are out there. They're just drowned out by gamers who've somehow grown fond of teabagging as a practice over the years.
Blizzard Entertainment, which develops Overwatch and runs its associated pro League, can't really do much about teabagging in game. Crouching is a necessary part of the Overwatch gaming experience, so they'd never remove it. The best they could do is forbid the practice and fine any player who did it. But much like in professional football, that probably wouldn't stop some of the more lucrative pros from engaging in the behavior anyway.
To make this particular instance of teabagging much worse, the Shanghai Dragons are currently ranked dead last in the Overwatch League, which makes this about as offensive as you can possible get.