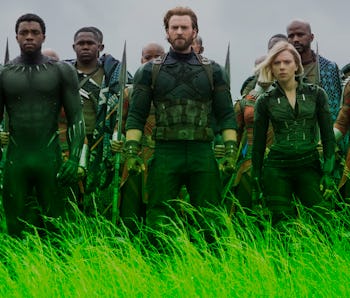 Entertainment
'Avengers: Infinity War' Thursday Box Office Is Big, But it Ain't Star Wars
Marvel
It only took a decade, but Infinity War is finally here. And, given that Marvel fans have been waiting for this moment for 10 years, it makes sense that the film did amazingly well at the box office for it's Thursday opening. However, it's $39 million from Thursday night preview showings may have been the most-ever for a superhero movie, but it's only fourth in the rankings. Star Wars and Harry Potter still reign supreme.
Variety reports that Infinity War brought in a hefty $39 million on Thursday night alone. It's projected to bring in at least $225 million for its opening weekend, with a chance that it could rake in more than $250 million by the time Monday comes. That's a huge deal, and Thursday's figure is certainly an auspicious start.
Marvel's previous Thursday night record-holder was Avengers: Age of Ultron, and that reeled in $27.6 million.
Despite the heroic victory at the box office, Infinity War failed the make as much as three previous films have. Star Wars: The Force Awakens, Star Wars: The Last Jedi, and Harry Potter and the Deathly Hallows — Part 2 all made more on Thursday night than Infinity War did. That makes a certain amount of sense. Harry Potter was the culmination of a story that a generation had grown up with, and The Force Awakens was a long-awaited, unexpected return to a galaxy far, far away. As for The Last Jedi? I guess Thursday moviegoers were more interested in what Luke Skywalker had been up to than seeing what Thanos was about to do.
Avengers: Infinity War is now in theaters.