Take Back Control of Your Wi-Fi Connection with This Incredible Tool
Netspot Pro helps you analyze and optimize your wireless network like never before.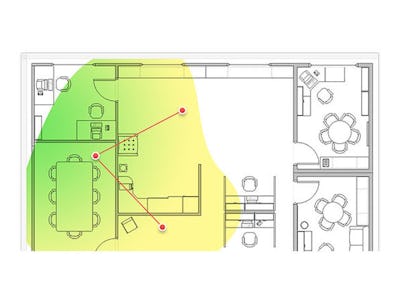 Stack Commerce
Wireless internet is one of the great inventions of our time. It's never been easier or more affordable to bring fast, reliable internet to just about anywhere. I still don't like to think about it too hard because to me, it might as well be magic. The internet? beamed to my laptop through … the air? Preposterous.
If only it were always that simple, though. Even the layman WiFi-haver knows that sometimes, for no reason, a connection can be dropped or a dead spot will appear. Fast internet is still somewhat a work-in-progress, but is it normal for my download speeds to drop to a crawl when I move one room away from the router in my own home? Who knows!
Most people who have tried to troubleshoot their own WiFi connections will know the basic tools to provide information on a spectrum of "huh, dunno" to "…wait a while and try again?" That's where NetSpot Pro comes in: a new, near-indispensable tool that will let you take back control of your connection, and by extension, your online life.
NetSpot Pro is an application for Macs and PCs that lets you visualize, optimize, and troubleshoot your wireless networks with any computer so you can get the best connection possible at all times. The app's mapping feature lets you see dead zones and recommend hotspot placements, and the troubleshooting tool to help you identify connectivity issues is unmatched. You can see real-time network speeds as you move around your home so you yourself can map out your optimal home connection.
A lifetime subscription to NetSpot Pro will allow you to analyze your WiFi coverage anywhere you are or plan on being, load a visual map, collect survey data, and build a comprehensive heatmap of a network. And for more advanced users, the ability to choose from multiple export possibilities, including new customizable advanced reports, will feel like a revelation.
Normally $198, Inverse readers can access a lifetime subscription to this essential tool for just $39. This is a limited time offer, though, so move fast.