'Hogwarts Mystery' Is, Somehow, the First 'Harry Potter' Game All About You
The Xbox Kinect game super doesn't count.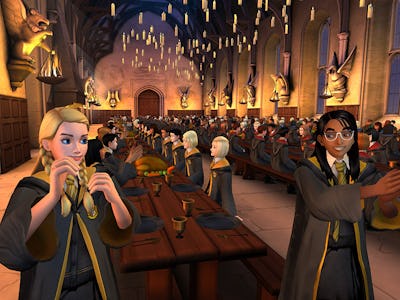 Jam City
Many Harry Potter fans have been waiting for their acceptance letter to Hogwarts School of Witchcraft and Wizardry for almost two decades. Finally, it's arrived, although it's not carried by a mail owl. Instead, new students will enroll by downloading a mobile game from their phone's app store. Harry Potter: Hogwarts Mystery looks to be a fun, well-polished game. But, how good it is almost doesn't matter when you consider that it is, somehow, the first Harry Potter game where you make your own character and go to Hogwarts, rather than retrace Harry's steps. That's enough of a reason to download the game right there.
This is a spoiler-free review of Harry Potter: Hogwarts Mystery.
Hogwarts Mystery, which is available via the App Store and Google Play as of April 25, is a collaboration between Jam City and Warner Bros., which explains why it so closely resembles the look, feel, and sound of the films. However, although the aesthetic and several characters look familiar, fans haven't seen them exactly like this before. Hogwarts Mystery is set in the Eighties, after Harry's birth but well before he ever attended Hogwarts.
Instead, your player character will go to school alongside characters like Bill Weasley and Nymphadora Tonks, learning about magic and a new mystery that has no connection with Voldemort (at least for now). There are tons of Easter eggs, including cameos by Hagrid's dog when it was a puppy and Peeves, the castle's poltergeist who never appeared in the films. During Inverse's brief playthrough of the game's opening moments, our character bought supplies from shops in Diagon Alley, met their best friend Rowan (a witch or wizard whose gender and house matches the player's), and put on the Sorting Hat. And, yes, you can choose your house.
As you learn magic and make friends through the text-based story and timed events, occasionally flourishing your wand by dragging your finger on the touchscreen, a larger plot begins to emerge. Your older brother was expelled from Hogwarts and disappeared years ago after investigating rumors of "cursed vaults" on campus.
The idea of mysterious cursed vaults fits squarely within the realm of Hogwarts as fans know it. Jam City went to great lengths to recreate Hogwarts, going so far as to send designers on a studio tour and directly cribbing descriptions of the hallowed school from the original books. It feels good to walk around the Hogwarts fans have dreamed of (and see new parts of it, like the Hufflepuff common room) while solving a new mystery. It feels like your mystery, not Harry's, which makes up for a somewhat underwhelming gameplay, at least at the start. That's fine — play Fortnite if you want killer gameplay on your phone. Hogwarts Mystery is more of a visual novel, starring you, a witch or wizard.
Jam City's Matt London, a senior narrative designer, stopped short of explicitly calling Hogwarts Mystery's story "canon," though it certainly feels as though it fits into the Harry Potter mythos. London says there are references not just to the books and movies, but also Fantastic Beasts and Cursed Child.
"This is a game that was made with a lot of love and passion by fans of Harry Potter," London said.
The game requires an internet connection to play, and there are in-app purchases for new outfits for your character and ways to skip through timed events, though there is no narrative paywall on this free-to-play game. The game isn't quite done, either. The main story will span all seven years of your character's time at Hogwarts, and some of the later years are part of upcoming updates. Much as the story in Harry Potter grew richer and more complex over time, so will the gameplay in Hogwarts Mystery, according to London.
A brand-new Harry Potter adventure starring you and created without Johnny Depp's involvement is worth checking out for any Harry Potter fan. There's tons more to explore in the Wizarding World, and this is a chance to explore it yourself. You'll have to download the game to unlock some of its mysteries because London wouldn't reveal who the Defense Against the Dark Arts teacher was.
"We encourage players to stay tuned and get excited," London teased.
Harry Potter: Hogwarts Mystery is available now via the App Store and Google Play.