'Fortnite' Will Face Serious Battle Royale Competition on PS4 From 'H1Z1'
Finally, a battle royale game for adults on PS4.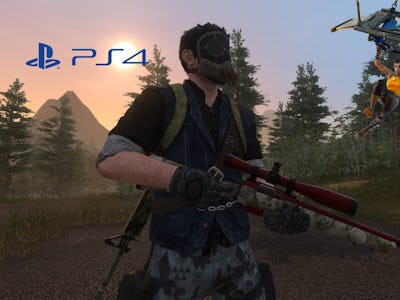 Daybreak Games / Epic Games / Sony
Epic Games' Fortnite might be the champion of battle royale video games right now, especially on PlayStation 4, but it's about to get a direct competitor when one of the very first battle royale games ever, H1Z1, finally reaches PlayStation 4 in May. Adults on PS4 will finally have a more mature battle royale gaming experience.
Daybreak Games announced Tuesday that it was expanding its H1Z1 battle royale video game to PlayStation 4, with an open beta version kicking off on May 22. Previously, the game's only been available on PC via Steam, but the new version will be optimized for consoles. It's a smart move targeting PS4 instead of Xbox One, in part because PUBG is already on Xbox One with no confirmed plans for PS4, so H1Z1 only faces battle royale competition from the ubiquitous Fortnite.
This new version of H1Z1 does away with the somewhat complicated crafting system. Unlike the goofy and unrealistic Fortnite, H1Z1 aims for a more realistic battle royale experience using the same core concept. Unlike Fortnite, which involves goofy building and cartoonish weapons in 100-person games, H1Z1 deathmatches have 150 players in similar game modes with different weapons and armor — and you can drive cars.
H1Z1 was originally developed under guidance from Brendan Greene, aka PlayerUnknown, who's most famous for later creating PlayerUnknown's Battlegrounds (PUBG). He established his battle royale format as a mod for DayZ and soon thereafter worked with Daybreak Gams on H1Z1, so when fans play it on PS4, they'll be able to play perhaps the earliest battle royale gaming experience ever. As such, PUBG and H1Z1 are far more similar to each other than they are to Fortnite.
PUBG is closer to a direct military sim like Arma, but H1Z1 is a half-step further away in terms of realism. It also has a heavy emphasis on using cars to win, which is less common in PUBG.
The original H1Z1 had a game mode that involved zombies, but that has since spawned an offshoot game called Just Survive with the two games now distinct from one another.
It'll be interesting to see how H1Z1 fairs on PlayStation 4 when Fortnite finally gets some battle royale competition. Will H1Z1 be the next big thing in battle royale experiences for PS4 gamers? Or will gamers just keep on obsessing over Fortnite? We'll find out soon enough.
H1Z1's open beta kicks off on May 22, but you can already sign up for the closed beta. There's no word on when that starts.