'Arrow' Season 6 and 'The Flash' Season 4 Hit Netflix in May, Here's When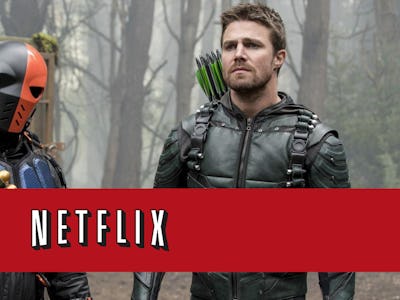 Warner Bros. Television
Netflix announced which movies and shows it's adding to its massive streaming library on Tuesday, and the list of titles included two series that Arrowverse fans are no doubt excited for. The most recent seasons of Arrow and The Flash, Seasons 6 and 4, respectively, will hit Netflix in May. However, Netflix curiously didn't specify exactly what date they'd be available to stream. We're pretty sure we can figure out exactly when that will be, however.
Netflix and the CW struck a deal back in July of 2016 that made it so full seasons of the CW's series would join Netflix's library eight days after the season finale. It's quite a quick turnaround, as it means that fans of Arrow, Riverdale, and the network's other shows need wait only a little more than a week for a retrospective binge of the most recent season. (The third season of Legends of Tomorrow is already on Netflix, for example, since the season finale aired on April 9).
Netflix's master list of new additions in May states that new seasons of Arrow, The Flash, Riverdale, Supernatural, and Dynasty are coming to the streaming service, but instead of an actual premiere date, just says "date not announced" for all of them. However, since we know that the Arrow Season 6 finale airs on May 17, fans can expect the season to come to Netflix on May 25. Similarly, The Flash wraps up its fourth season on May 22, so it should be on Netflix on May 30.
Once all the Arrowverse shows are on Netflix, it will help solve an unfortunate problem with this licensing deal. The Arrowverse's big crossover, "Crisis on Earth-X," is currently unwatchable, because Part 4 is technically a Legends of Tomorrow episode, but the earlier installments were Flash and Arrow episodes which, aren't on Netflix yet. However, Supergirl runs until June, so the crossover will still be incomplete by the end of May.