'Venom' Footage Leak Reveals First Look at Tom Hardy's Symbiote
It's him, or rather, it's them.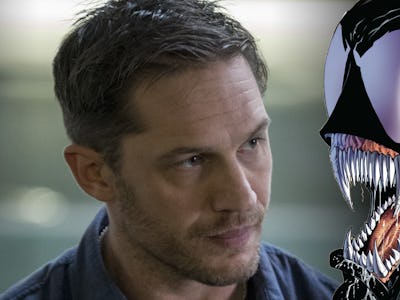 Sony
Tom Hardy posted to his Instagram account Sunday that a new trailer for Venom would be shown at Cinema Con, which is currently underway in Las Vegas. Footage from that trailer made its way to social media Monday and fans are losing it, as this is the first time they're seeing Venom in the "flesh."
A Twitter user tweeted the leaked Venom clip late Monday. It's only eight seconds long, but it shows Hardy's transformation into the villain that is also the occasional anti-hero. He then says, "We are Venom." In just a couple of hours, the clip had already been viewed more than 200,000 times.
The first trailer for Venom came out in February and caused some disappointment. It's a tense trailer, but it missed the key visual of seeing the actual Symbiote.
Fans showed their excitement over the leaked clip, especially with Venom referring to himself as "we" (meaning Eddie Brock and the Symbiote) as he does in the comics.
Hardy is currently at CinemaCon as part of a Sony Pictures Entertainment event. The company will show off its upcoming exclusives, with Venom being one of the big upcoming films for the studio. Other major studios will also promote their future projects at CinemaCon, which continue through April 26.
Venom will release on October 5, 2018. The film will see Venom face off against multiple Symbiotes similar to the storyline of multiple comics featuring the character. Riz Ahmed (Rogue One), Michelle Williams (All the Money in the World), Jenny Slate, Reid Scott (Veep), and Scott Haze (Midnight Special) will also star in the film.