'Spider-Man' Sequel Will Have Globe-Trotting Plot, Should Have This Villain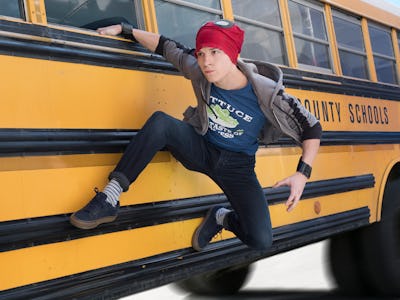 Marvel Entertainment
As the youngest in the entire Avengers: Infinity War ensemble (Vision doesn't count), Spider-Man has quite the journey still ahead of him. In what could be a spoiler for Infinity War and Avengers 4 in 2019, Marvel Studios president Kevin Feige revealed several key details for the untitled sequel to Spider-Man: Homecoming, which will involve a global setting as well as a return to "normal life." At least, whatever normal means in the Marvel Universe.
With Spider-Man going global, it's a pretty good opportunity for the MCU to introduce one of Spidey's most infamous villains: Kraven the Hunter, though there's been no official word of that yet.
During the Infinity War press tour this weekend, Feige revealed two key details while chatting with io9 and IGN. In his io9 interview, Feige revealed that Spider-Man: Homecoming 2 will begin shooting in July on location in London. "[W]e shoot a lot of films in London but there's another reason we're shooting in London which is, yes, Spidey, of course, will spend some time in New York, but he'll spend some time in other parts of the globe," Feige said.
In talking to IGN, Feige said that Homecoming 2 will mirror the first Spidey film — which took place after 2016's Captain America: Civil War — in that Peter Parker will struggle to adjust to a sense of normalcy after two incredibly massive Avengers movies. "What is it like to try to go back to a normal life after what happens in this movie ['Infinity War']?" Feige posited before adding, "Not to mention what happens in the next movie."
A global setting? Struggling to be "normal"? That sure sounds like a solid set up for a villain like Kraven. In the comics, Kraven is a world-renowned Russian big game hunter who went after Spider-Man in pursuit of the ultimate hunt, obsessed with the web-head as Captain Ahab was to Moby Dick.
More than any other Spidey villain, Kraven is famously one of Spidey's most psychologically intimidating foes. Though he was introduced in the '60s by Stan Lee and Steve Ditko, it was in the 1987 storyline Kraven's Last Hunt by J.M. DeMatteis and Mike Zeck that immortalized Kraven with die-hard fans. It's not hard to imagine a Spider-Man movie in which Peter Parker, fresh from fighting a cosmic deity with all the power in the universe, enters a far more personal battle against a human enemy like Kraven. Fingers crossed that the sequel won't just be Spidey versus the Green Goblin again.
Avengers: Infinity War will be released on April 27. The untitled Spider-Man: Homecoming sequel will be released on July 5, 2019.