NASA's Mars Cube One Spacecraft Headed to Red Planet Alongside InSight
It can change communication in space.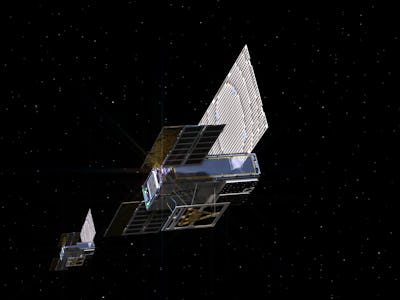 NASA
A new kind of spacecraft from NASA will launch in May that could change how information travels in deep space. Just like other modern technology, this new craft is a lot smaller and filled with some cutting-edge tech.
NASA revealed Thursday the MarCO CubeSats, which will take a ride to Mars with the InSight lander in May. The two briefcase-sized satellites will deploy at the same time is the lander and will begin orbiting the red planet. Once orbiting the planet, the MarCO CubeSats will send data back to Earth from InSight, although the InSight can send data on its own. Ideally, this is a test to see if the technology in the satellites can relay information in minutes rather than hours.
"These are our scouts," said MarCO's chief engineer Andy Klesh. "CubeSats haven't had to survive the intense radiation of a trip to deep space before, or use propulsion to point their way towards Mars. We hope to blaze that trail."
Officially named "MarCO-A" and "MarCO-B," the two CubeSats were nicknamed "Wall-E" and "EVE" from the 2008 Pixar movie, Wall-E. NASA's Jet Propulsion Laboratory in Pasadena, California built the small satellites, which will use compressed gas to propel themselves in space similar to a scene in the movie where Wall-E did the same. This is the CubeSats first test past Earth's orbit and could be the future to exploring deep space.
InSight and the CubeSats will launch on May 5 from the Vandenberg Air Force Base in California. If "Wall-E" and "EVE" survive the trip, the two can provide NASA with a "black box" for future Mars landings.
This mission to Mars is two years behind schedule, but if successful, InSight could gather data on the red planet's inner layers and give some "insight" on the evolutionary process of terrestrial planets.