What is the Tech Accord and Why are Big Tech Companies Signing It?
By their powers combined.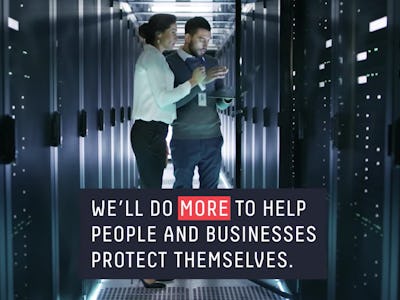 YouTube
C ybersecurity is the hot-button issue lately as companies around the world have been targets of hackers, terrorists, and other organizations seeking to cause harm to individuals, organizations, and countries. A new accord signed by some of the largest tech companies in the world such as Facebook and Microsoft promises to fight back against the cyber threats and protect users from attacks.
A group of 34 tech companies signed the Cybersecurity Tech Accord on Tuesday. The companies pledge to provide a stronger defense against cyber attacks, not help any governments launch attacks against innocent citizens while protecting the exploitation of the companies' products and services, empower users and developers to strengthen cybersecurity protection, and partner with other groups to enhance security while minimizing potential harm online.
"The real world consequences of cyber threats have been repeatedly proven," said Kevin Simzer, Chief Operating Officer of Trend Micro, in the press release on the accord's site. "As an industry, we must band together to fight cybercriminals and stop future attacks from causing even more damage."
The companies included in this Avengers-like supergroup include ABB, Arm, Avast, Bitdefender, BT, CA Technologies, Cisco, Cloudflare, DataStax, Dell, DocuSign, Facebook, Fastly, FireEye, F-Secure, GitHub, Guardtime, HP Inc., HPE, Intuit, Juniper Networks, LinkedIn, Microsoft, Nielsen, Nokia, Oracle, RSA, SAP, Stripe, Symantec, Telefonica, Tenable, Trend Micro, and VMware.
Next for the Cybersecurity Tech Accord is to have the first meeting between the companies at the RSA Conference in San Francisco, which started on Monday. Plans are to discuss future actions such as information sharing and taking on specific cyber threats.
Facebook has been in hot water in the past months due to user info data firm Cambridge Analytica was able to acquire. Microsoft is also no stranger to being targeted as it has dealt with multiple viruses affecting Windows operating system.