Harley Quinn Movie Will Share Something in Common With 'Wonder Woman'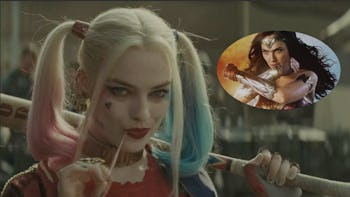 DC
When Wonder Woman jumped from comic book pages to the big screen for her solo adventure, Patty Jenkins landed the gig. As the first woman to direct a major superhero film, Jenkins brought the film industry a true milestone and a damn good movie. Now, another popular DC heroine (or maybe anti-heroine is more accurate), Margot Robie's Harley Quinn is set to get a spinoff film and another woman has joined the growing number of female directors bring comic book characters to the big screen.
On Tuesday, news broke that Cathy Yan would be directing an untitled DC film centering on several comic book characters including Harley Quinn according to The Hollywood Reporter. The film is reportedly based on the comic book team Birds of Prey, a team made up of several of the DC Comics' female characters like Batgirl and Black Canary.
Yan is making history as the first Asian woman to helm a superhero blockbuster film. The rising star is coming off a splashy feature directorial debut with Sundance hit Dead Pigs.
Though Suicide Squad was a mess, Robie's Harley Quinn was the breakout star, so it makes sense that Warner Bros. would bring her back for a spinoff film, but the question of who will join her is still unanswered. Two likely additions are Katana and Barbara Gordon herself as Batgirl. Katana was in Suicide Squad alongside Quinn, and Batgirl's solo film just found a new writer to take over for Joss Whedon. Interestingly, Christina Hodson, who replaced Whedon, wrote the script for the Harley movie Yan just signed on to direct. Catwoman, Black Canary, Huntress, Gypsy, and Poison Ivy are just some of the characters who have been on the team during its comic book history.
Yan's new gig brings the tally of women directing superhero films to 3. She joins Jenkins, who is returning to direct Wonder Woman 2, and New Gods director Ava DuVernay.
Let's hope Yan's DC film is a critical success when it comes out, making that one more thing it has in common with Wonder Woman.
There is no release date for the Harley Quinn movie at this time.