'Fortnite Battle Royale': 3 Insane Things Teens Are Doing With the Game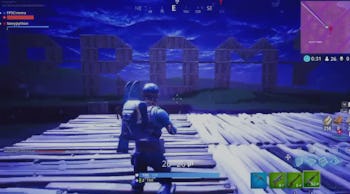 Reddit
Millions of gamers continue to play Fortnite on a regular basis whether it's on their consoles, PCs, or mobile phones. Teenagers are especially drawn to the battle royale game made by Epic Games leading to some extreme behavior.
Released last September, Fortnite puts 100 players on an island to see who is the last one to survive in what's called a battle royale. Although it's not the first game of its type, it quickly shot in popularity with some celebrities such as the rapper Drake playing the game in front of 600,000 viewers on Twitch. The game makes millions for the developer Epic Games, including $126 million in February alone.
Here are three examples of teens going the extra mile to show the love for Fortnite.
A Twister Doesn't Stop Him from Playing
Anton Williams of Greensboro, North Carolina — only hours away from Cary, North Carolina where Epic Games has its offices — heard loud noises outside his window on Sunday night. He looked outside to see the roof of a house fly off, but he didn't panic.
"I sit back down because I only have a couple people left in my game, and I was going to try to finish the game," he told WXII on Monday."
He continued to play Fortnite until the storm continued to worsen. Williams then told his sister and nephew to get into the bathroom for safety. Still, he says his mind was on Fortnite during the storm where reports stated winds reached 135 mph.
The Kids Don't Want Education, Just 'Fortnite'
USA Today reported Sunday on how schools in the U.S. and UK are dealing with a growing number of students playing Fortnite in class. Since the game released on iOS in March, it's easier to compete in matches while on the go.
A school in Missouri had teacher confiscating smartphones of students caught playing the game during class. In the UK, a school sent texts to parents advising them of the disruptions Fortnite is causing and advised banning the game at home.
PromNite
A user on Reddit called Navypython posted a video on Sunday of his Fortnite prom proposal to his girlfriend. In the video, he shoots the structure he created in the game which causes a chain reaction leaving the word "Prom?" in big letters.
Navypython said it took him 15 tries to get everything to work just right. Also, she said yes.
Polygon reported this isn't the first instance of Fortnite being used for prom proposals. Other teens created various structures to pop the question.
Also, some proms had the game available to play the night away.
As Fortnite continues to grow in popularity, there will be likely even more instances of players going that extra mile to show their love for the game.