'Walking Dead' Crossover: How Fans Can Snag a Collectible Theater Poster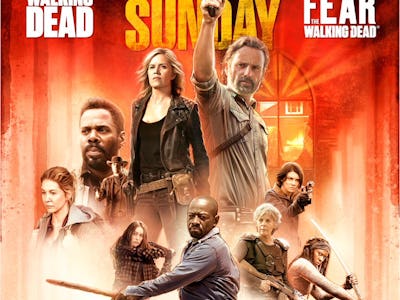 AMC
History will be made this Sunday, April 15, at least for fans of AMC's The Walking Dead. To commemorate the event when Rick takes on Negan for the last time, and when the worlds of The Walking Dead and Fear the Walking Dead collide, fans who attend "Survival Sunday" screenings from Fathom Events will be given an exclusive poster featuring characters from both shows.
On Thursday, the official Walking Dead Twitter account promoted the upcoming "Survival Sunday," held by Fathom Events, in which both The Walking Dead Season 8 finale and Fear the Walking Dead Season 4 premiere will screen in 700-plus theaters nationwide. The tweet included a teaser for a special poster, which was shared by This Is Insider correspondent Kristen Acuna on Twitter.
The poster, created by artist Brian Rood, features the casts of both Walking Dead and Fear the Walking Dead, including Andrew Lincoln ("Rick"), Kim Dickens ("Madison"), Colman Domingo ("Victor"), Norman Reedus ("Daryl"), Danai Gurira ("Michonne"), and more. At the center is Lennie James, as "Morgan," who will be the crossover character between the two shows. Also on the poster is Jenna Elfman, best known for her role in the sitcom Dharma & Greg, who will debut this season in Fear the Walking Dead as a survivor named "Naomi."
This Sunday is a big deal for Walking Dead fans. In the Season 8 finale of The Walking Dead, Negan leads the Hilltop, Alexandria, and the remnants of the Kingdom in a war against the Saviors, a radical survivalist group led by the charismatic and terrifying Negan (Jeffrey Dean Morgan). Since Season 6, Negan has made Rick and our heroes' lives a living hell, even more so than the zombies that now roam all over Earth. Now, Rick has consolidated his forces and now has a chance to end Negan once and for all.
The Walking Dead Season 8 and Fear the Walking Dead Season 4 will premiere on AMC at 9 p.m. Eastern. The theatrical "Survival Sunday" begins at 8:30 p.m. in select theaters.