Billy Mitchell's 'Donkey Kong' World Record Removed
The subject of the 2007 video game documentary 'King of Kong' was found using modified software.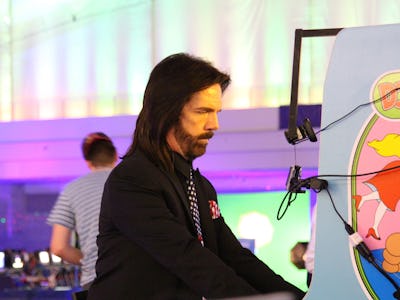 Flickr / daveynin
The former world record holder for the video game classic Donkey Kong has been stripped of his place in the worldwide rankings.
On Thursday, Twin Galaxies, a governing body recognized by Guinness World Records that tracks records in video games, announced it will remove the records placed by former pro gamer and hot sauce salesman Billy Mitchell. After examining a "complete body of evidence" in a message forum thread, Twin Galaxies staff "unanimously" agreed to strike Billy Mitchell's records as well as permanently banning him from future participation.
"From a Twin Galaxies viewpoint, the only important thing to know is whether or not the score performances are from an unmodified original DK [Donkey Kong] arcade PCB [printed circuit board] as per the competitive rules," Twin Galaxies wrote in an official statement. "We now believe that [Billy Mitchell's games] are not from an original unmodified DK arcade PCB, and so our investigation of the tape content ends with that conclusion and assertion."
In early 2018, a Twin Galaxies forum user named Xelnia presented evidence that Billy Mitchell had been setting records using modified software instead of an authentic arcade cabinet. There's a let of technical jargon, but the gist is that the differences allowed Mitchell certain advantages that other players using real arcade machines did not. Twin Galaxies spent several months going over the evidence, and it appears they've made a decision regarding Mitchell.
Until recently, Mitchell, an American gamer from Massachusetts, held the highest score for the 1981 Nintendo game Donkey Kong. Mitchell was the subject of the 2007 documentary The King of Kong: A Fistful of Quarters, in which Mitchell's record was challenged by Steve Wiebe, a high school teacher and musician. Throughout the film, Wiebe tries and fails to surpass Mitchell's record, though Wiebe did officially beat Mitchell after the film's release, playing on an authentic cabinet in his garage.
Since The King of Kong, other players have surpassed Mitchell's record, including Hank Chien, Robbie Lakeman, and most recently, Wes Copeland, who set the record on May 5, 2016 with a score of 1,218,000.
Aside from his mullet, beard, and Americana neckties, Billy Mitchell is notorious for his egotistical personality. "No matter what I say, it draws controversy. It's sort of like the abortion issue," he says in The King of Kong.
In 2015, a caricature of Billy Mitchell was played by Game of Thrones star Peter Dinklage, which he only passively acknowledged in an interview with Inverse. "He's obviously a pinch shorter than me. But other than that he certainly has the right attitude and the right outlook."