'Fear the Walking Dead' Just Introduced Its Own Negan, For the New Viewers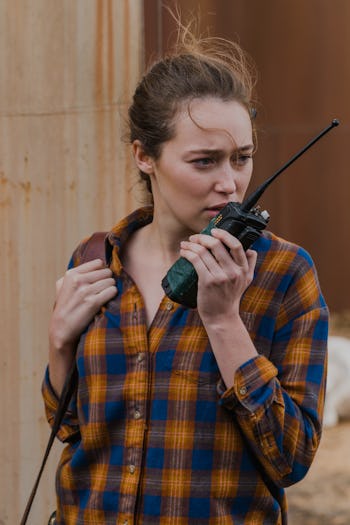 AMC
If you haven't been watching Fear the Walking Dead, the show just made it very, very easy to jump on. Not the least of which because the series just introduced its own version of Negan, a maniac named "Mel" with flashier style than [Jeffrey Dean Morgan's leather jacket tyrant](https://www.inverse.com/article/29857-negan-death-the-walking-dead-season-8). But for those who have been tuning in since it premiered in 2015, Season 4 is leaving a lot of questions unanswered.
The second episode of Season 4, "Another Day in the Diamond," is essentially a soft reboot of the series, made accessible [for all the new viewers from The Walking Dead to [get acquainted with Madison](https://www.inverse.com/article/25027-fear-the-walking-dead-season-2-madison-kim-dickens-killer-leader-evolution) (Kim Dickens), Nick (Frank Dillane), Alicia (Alycia Debnam-Carey), Victor (Colman Domingo), (Kim Dickens), Nick (Frank Dillane), Alicia (Alycia Debnam-Carey), Victor (Colman Domingo), and Luciana (Danay Garcia) (Danay Garcia). When we "meet" them this season, we learn that they've made a nice living inside a baseball stadium — "The Diamond" — and on the one-year anniversary of making it their home, their waking up in this unfamiliar setting is just another day in the life of the apocalypse.
But cozy living in luxury boxes are a far cry from where Season 3 of Fear left off. After leaving a doomsday camp, "The Ranch", in ruins, Alicia and Victor were separated from Madison, who found herself washed ashore, while Alicia's brother Nick escaped with the help of Daniel, Alicia's ex-boyfriend and heir apparent to the camp. But when Season 4 picks up, "The Ranch" is a distant memory, and without explanation, our heroes have long been reunited.
"Diamond" has the unenviable task of reintroducing characters half its audience are already familiar with. So we're obligated to see Madison be a leader, even though we've seen her play that role many times. But here she is, standing face-to-face with Mel, the new antagonist who is a vast departure from the grounded enemies we've seen in Fear. Like Negan, Mel and his group — "The Vultures," how fitting — want half of what The Diamond produces. And they couldn't have come at a worse time, as the soil in the field is corrupted and ruining their crops.
Inexplicably, this peaceful living in the Diamond and its Vulture disruption is itself in "the past." When the episode catches up to the moment its heroes meet Morgan (Lennie James), John (Garret Dillahunt), and Althea (Maggie Grace), the Fear gang have become hardened, paranoid, and deeply suspicious. And, they're in the middle of their own war against the Vultures. All signs point to the Fear gang recruiting Morgan for their cause.
If only Morgan wasn't so tired from fighting the Saviors.
Fear the Walking Dead airs Sundays at 9 p.m. Eastern on AMC.