'Fear the Walking Dead' Season 4 Crossover Confirms Morgan's Timeline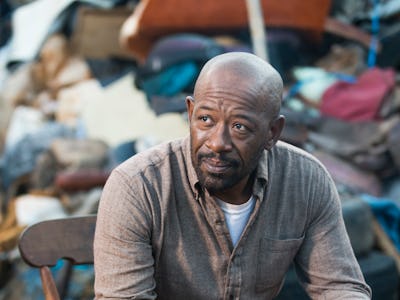 AMC
It wasn't a matter of how, or even why, but when Morgan jumps from The Walking Dead into the spin-off/prequel Fear the Walking Dead. As the first-ever crossover in the franchise, Season 4 of Fear the Walking Dead now stars Lennie James as Morgan, whose journey from the Season 8 finale of the core series leads directly into his new adventure on Fear. And in the season premiere on Sunday, Fear has confirmed its new timeline.
Minor spoilers for Fear the Walking Dead ahead.
In "What's Your Story?", Fear the Walking Dead introduces Morgan sometime after the Season 8 finale of The Walking Dead, in the aftermath of the war with the Saviors. While his friends beg him to come back, including Walking Dead stalwart Rick (Andrew Lincoln, in a guest role), Morgan chooses to leave, leaving Alexandria and the Hilltop and everything else behind. Hoping to start anew, and on his own, Morgan is soon roped into new company: Althea (Maggie Grace), a journalist chronicling stories from survivors, and John Dorie (Garret Dillahunt), a friendly gunslinger with a Texas twang in his speech.
At the end of the episode, however, the trio meet an injured girl on the road: Alicia (Alycia Debnam-Carey), who quickly turns on the group and other familiar faces pop out from the bushes. Victor (Colman Domingo), Nick (Frank Dillane), even Luciana (Danay García), the gang's all here. And suddenly, they've got Morgan in their crosshairs. Not exactly the start to a beautiful friendship.
Since New York Comic Con last year, Walking Dead has teased its legion of fans with the crossover between the two monster-hit zombie shows. But in involving Morgan, the big question has long been, "When does Fear take place?" As a prequel with no ties to the core series, Fear the Walking Dead followed its own timeline, taking place some unknown years before Rick woke up in the hospital that kicked off The Walking Dead.
With Morgan, some fans believed that the new season would take place during Morgan's missing years, between when he first appeared in The Walking Dead Season 1, and before he showed up years later, in Season 5. (And definitely after his big stick-fighting origin story with Eastman.) But as the episode confirms, Season 4 of Fear takes place even after the Savior/Alexandria war. It's just a matter of how many years have passed since the Fear gang lived on that ranch with the kooky survivalists. Based on the teasers for next week, it seems our heroes have found their own way to survive.
Fear the Walking Dead airs Sundays at 9 p.m. Eastern on AMC.