Drake Streamed 'Fortnite' Again and Paid Ninja $5,000 After He Won a Bet
This is truly "God's Plan" for Drake.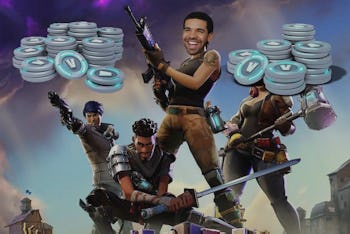 Epic Games
Toronto rap sensation and perfectly adequate Fortnite: Battle Royale player Aubrey "Drake" Graham low-key joined in on another gaming session on Twitch Tuesday night with friend and uber-popular streamer Ninja. But this one had stakes: The two were playing the "Duos" battle royale game mode in which 50 teams of 2 battle to the death. With Drake already down, the rapper promised $5,000 to Ninja if he could pull off the win on his own. Sure enough, Ninja somehow pulled the whole thing off, so Drake, saying he was a "man of his word," agreed to follow through.
This might sound like a lot of money to bet on a video game, but it's chump change for these two when you learn that Ninja supposedly makes more than $875,000 a month from Twitch subscriptions and Drake's estimated net worth hovers around $90 million.
Here's a clip from last night's stream, in which you can hear Drake promising the money if Ninja won. Laughing, Ninja says, "As if I wasn't trying hard enough." Sure enough, he pulls off a victory with the ridiculous Egg Launcher and some quick sniping:
Drake first played Fortnite with Ninja on March 15 in a stream that peaked with more than 635,000 concurrent viewers. This new stream topped out at just over 230,000 viewers, which is still impressive considering Drake didn't announce it on Twitter beforehand, and the two of them played for a much shorter amount of time.
Ninja's meteoric rise in popularity has only risen since the previous stream with Drake and is concurrent with Fortnite's ever-growing popularity as well. Anecdotally, Drake got into Fortnite and began watching Ninja's streams and game clips.
If you've ever watched one of his streams and know how to follow Fortnite, then you know how insanely skilled Ninja is at this game. Here's another clip from last night's stream of some clutch gunplay:
Who knows when these two will link up and play over Twitch again, but it's always exciting when they do.