Gilfoyle's Bitcoin Alert in 'Silicon Valley' Is a Real Grindcore Song
"You Suffer" is the world's shortest metal song at 1.316 seconds.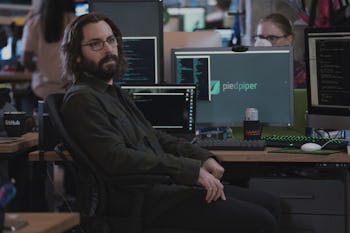 HBO
On the newest episode of HBO's Silicon Valley, the card-carrying LaVeyan Satanist and security coder Gilfoyle (Martin Starr) revealed his very bizarre, and very unsettling, sound alert for spikes and dips in Bitcoin. It's Napalm Death's grindcore single, "You Suffer," off the band's 1987 debut album Scum. At 1.316 seconds long, it's one of the shortest songs in the history of music.
In "Chief Operating Officer," the third episode of Silicon Valley Season 5, a normal day a Pied Piper — which is pretty much an oxymoron — is disrupted when Gilfoyle's alert for Bitcoin scares the office. "I need to know when it breaks that threshold so I can remotely toggle my rig at home," Gilfoyle tells a shaken Richard Hendricks. When Richard asks how often that alert will go off, Gilfoyle reminds him: "Bitcoin is very volatile." Hilariously, it rings again.
Throughout the episode, the song continues to irk the Pied Piper offices, compelling Richard to seriously consider firing Gilfoyle. The whole conflict is spurred by another subplot, which involved the Season 4 finale where Gilfoyle's beloved Anton, spread lurid images — also made by Gilfoyle to prank Jian Yang — on countless smartfridges installed in millions of homes.
While the fictional world of Silicon Valley is only parallel to ours, "You Suffer" is real. Serving as the final track on Napalm Death's debut album Scum, the one-second "You Suffer" is an early eample of joke "microsongs" in heavy metal and grindcore. "You Suffer" would later influence other bands like Sore Throat, 7 Minutes of Nausea, Deche-Charge, and the now-defunct Anal Cunt from Massachusetts. In 2010, director Edgar Wright paid homage to Napalm Death in Scott Pilgrm vs. The World, with the brief banger "I'm So Sad, So Very, Very Sad" played by the fictional group, Crash and the Boys.
In a 2008 article for Decibel, Justin Broadrick, who served as the guitarist for Napalm Death for a brief period that included the recording of Scum, said "You Suffer" was mostly a joke.
"'You Suffer' was largely a comedy thing," Broadrick said. "It's ridiculous, but it was hilarious. We played that song in front of 30 local kids, like, every weekend. we played that song 30 times. It was a laugh."
Mick Harris, who played drums, said the song is a "novelty" but that there is actual construction to it, as opposed to just playing noise:
"There is a bit of a novelty. Let's do the shortest, fastest thing you can do. And yeah, there are notes there. People think we just go, "Bllp" and that's it … there's a lyric, 'You suffer, by why?' And it's played quick, fast and sharp and as tight as we could. We had a bit of a reverb on there. It probably makes it even longer."
The song is recognized by Guinness Book of World Records as the world's shortest song. "We didn't ask for it. It just got put there," Harris told Decibel. "We were told, 'You've made the Guinness Book of World Records.' And w were like, 'Nah, get out of here,' and yes, there it is."
In 2007, an actual music video was produced for "You Suffer," depicting a little girl jumping up and down before spontaneously combusting. It's not exactly hilarious, but in the context of Silicon Valley, it's one of the show's funniest gags. For a show that also invented the most elaborate dick joke in the history of TV, that's saying something.
Silicon Valley airs at 10 p.m. Eastern on HBO.