Explaining the Tech in 'Silicon Valley'
In between the laughs, there's some impressive tech references in HBO's hit show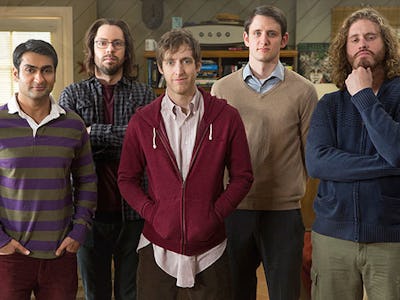 HBO
HBO's hit comedy Silicon Valley lampoons the very lampoon-able characters running around in the gilded bubble of Northern California's tech industry. And while creator Mike Judge's Emmy-winning show also makes fun of the often-silly "innovations" that earn the wiz kids of the region untold sums of money, it does so in a very technically accurate way.
Not every tech gag is as elaborate or impressive as the epic and very on-point dick joke that marked the climax of the first season, but the show is still pumping them out on a regular basis. Here's what you need to know about the tech in-jokes during the third season premiere, which aired Sunday night.
The Bambot
Early in the episode, Erlich (T.J. Miller) and Richard (Thomas Middleditch) go jetting up a hill in Erlich's Aviato-branded SUV in a desperate attempt to overturn the unjust decision made by the Pied Piper board (we won't spoil that here). Unfortunately, their ride is interrupted by a deer crossing the street, directly in their path.
The wildlife of Northern California has evolved rapidly over the last few years, and instead of blood and guts streaking the pavement, they find a slightly dented, but otherwise still functional, robot. Erlich recognizes it immediately as a product of the Stanford Robotics Club, the members of which emerge from behind a bush soon after the accident.
The reference here is a marriage of several real-world institutions. The Stanford Robotics Club indeed exists, and right now they're working on projects that include autonomous sailboats and a brain-controlled wheelchair. The deer in the show more resembles a robot made by Boston Dynamics, a company known for its creepy disembodied robots that look like nightmarish, furless Disney World animatronics.
Google acquired Boston Dynamics in 2013, and last month, its new parent company, Alphabet, put the robot lab up for sale. According to Bloomberg, there was a clash of cultures between the Boston Dynamics executives and the other robotics pros at Google, who operate under the name Replicants. Perhaps the parent company is just unaware of the bad Blade Runner-related vibes that name gives off.
Boston Dynamics isn't the only group constructing robotic animals for use at places other than Chuck E. Cheese's; law enforcement officials have relied on other, furrier robotic deer to stop poachers for several years now.
Real-time mustache
Thanks to some help from his loyal bud Jared (Zach Woods), Richard begins to explore opportunities at new companies. One of the places that wants his coding brain is Flutterbeam, a hot startup that has amazing tech… or so Richard thinks.
He gets a tour of the flashy office, and is then introduced to the program he'd be focusing on in his first task as CTO: "Compositing perfect 3D holographic mustaches using depth-sensing cameras in a live video chat." Translation: make a mustache filter for their instant photo-sharing service.
It's a not-so-subtle shot at Snapchat, upon which Flutterbeam is obviously based: It's shiny start-up flush with major new investment that employs some of the best minds in tech, and its big innovation is sticking different kinds of customized face decorations on bored teenagers. Snapchat is now valued at a staggering $16 billion, and media companies are desperately trying to figure out how to manipulate fickle millennials.
As for the tech mentioned, the irony is that they're developing some pretty complicated and important stuff for what is just about the dumbest purpose possible. Compositing images — basically stitching different angles together to make a full 360 degree image is a huge part of making virtual reality video, and having them all adjust in real-time to the movement of the viewer is particularly challenging. Perfecting that will make VR a much better and more attractive experience, and could launch the next big platform for both technology and entertainment. But at Flutterbeam, it's being used for mustaches.
The Compression Library
With Richard at least temporarily out of the picture at Pied Piper (sorry, spoilers!), his coding colleagues Gilfoyle (Martin Starr) and Dinesh (Kumail Nanjiani) figure that they can fill his shoes on the back end of the work-in-progress product. They soon realize, however, that Richard did all of the heavy lifting on the project, and find themselves stumped on the compression library.
Pied Piper's main product is a compression engine that allows people to shrink mega-sized music files down to much smaller sizes — without impairing the quality. The library they refer to is basically a database of the operations that the compression engine frequently runs; according to Webopedia, it is "a collection of precompiled routines that a program can use," and is "particularly useful for storing frequently used routines because you do not need to explicitly link them to every program that uses them."
If they can't figure out how to use the library, they are screwed when it comes to building out the rest of the application.