'The Simpsons' Response to 'Apu' Documentary Is Tone-Deaf in So Many Ways
The latest episode of 'The Simpsons' has a woefully misguided answer to criticisms of its token South Asian character, Apu.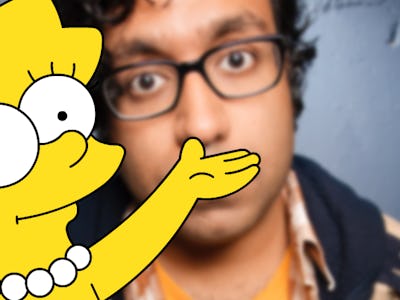 Fox, Mindy Tucker
Months after comedian Hari Kondabolu released his cultural documentary The Problem with Apu, which explored The Simpsons and its Indian grocer Apu Nahasapeemapetilon, the latest episode of the long-running sitcom finally addressed Kondabolu's critiques with the equivalent of a shrug. But as egregious as the show's dismissive response was to begin with, the half-assed comeback was especially bad because it used its most progressive vehicle, Lisa Simpson, to wave off Kondabolu's film.
The movie itself is less about slamming The Simpsons and more about starting a conversation on race, tokenism, and the pervasive power of pop culture. This leaves The Simpsons looking tone-deaf and, indeed, more offended than Kondabolu.
On Sunday, The Simpsons aired its latest episode, "No Good Read Goes Unpunished," in which Simpson matriarch Marge buys an old book she used to love to share with Lisa, only to realize the book has culturally offensive ideas. When Marge asks, "What am I supposed to do?", Lisa responds in a jab unambiguously directed towards Kondabolu.
"Something that started decades ago and was applauded and inoffensive is now politically incorrect," Lisa laments, looking at a picture of Apu. When Marge says that it will be dealt with "at a later date," the two break the fourth wall and nod towards the audience, the deafening silence punctuating the show's very awkward and, arguably regressive, response. Even worse, the picture of Apu comes with an inscription, "Don't have a cow, [signed] Apu."
By itself, it's a pretty weak answer to Kondabolu's film by the show's writers. But what makes their take egregious is that they spoke through Lisa Simpson, who for decades has been The Simpsons' progressive advocate who regularly speaks on diversity, feminism, environmentalism, and more. It was only in February of this year that Republican Senator Ted Cruz called the Democratic Party "The Party of Lisa Simpson," which led some progressives to adopt Lisa Simpson as their Patronus, at least for a while.
Now, Lisa's white feminism is showing. Her response comes off like the show's creators only saw the trailer for Apu and crafted a knee-jerk response in haste, while the better alternative would be to actually reckon with how South Asians have felt about Apu — a character "othered" as a South Asian immigrant who sticks out in midwestern Springfield — for decades. Also, "Don't have a cow"? Come on.
Lost in the internet's furor over Apu is that the point of Kondabolu's film wasn't to condemn The Simpsons; Kondabolu is a fan of the show who sought to explore how tokenism manifests in pop culture, which holds a pervasive power invisible to those who aren't usually challenged by their race, gender, or sexuality. In his film, Kondabolu interviewed a slew of South Asians in Hollywood, including Kal Penn, Sakina Jaffrey (House of Cards), Aziz Ansari, and more, all of whom had stories about being associated with Apu while growing up in America.
Kondabolu also unsuccessfully tried to speak to Hank Azaria, Apu's Caucasian voice actor whose accented catchphrase, "Thank you come again" has been strongly associated with Indian-American stereotypes.
Shortly after the episode aired on Fox, Kondabolu posted a response on Twitter. "In The Problem with Apu, I used Apu & The Simpsons as an entry point into a larger conversation about the representation of marginalized groups & why this is important," he writes. The Simpsons response tonight is not a jab at me, but at what many of us consider progress."
In Kondabolu's official press statement he took one final stab at the show: "Congratulations to the Simpsons for being talked about & being seen as relevant again." You can disagree with Kondabolu on many things, but you can't argue with him there.
The Simpsons airs on Sundays at 8 p.m. on Fox.