María Félix Had This Strange but Fascinating Connection to Reptiles
She always was an innovator.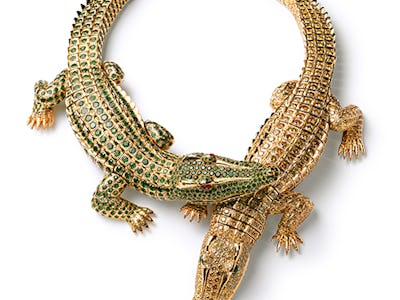 Cartier
María Félix is one of the most beloved actresses of Mexican cinema, but she was known to cross genres. Her brief foray into the world of jewelry design would establish a separate legend just as innovative as her characters.
On Sunday, Google honored cinema legend María Félix with a Doodle. The actress was known for helping to establish the golden age of Mexican cinema in the Forties and Fifties, and went on to collaborate with renowned artists across genres and continents. Throughout her life, she was also known to harbor a love for reptiles, and that reputation would be crystallized forever after a fated collaboration with Cartier.
According to legend, in 1975, Félix commissioned Cartier to make exact replicas of her two new pet crocodiles in an interlocking necklace. To ensure the most exact representations of her beloved pets, she brought the crocodiles to the Rue de la Paix boutique in Paris and insisted that the pair live there until the design was complete. The baby crocs were eventually removed from the premises when employees worried they had become too large and lethal to maintain at a boutique.
Starting in 1910, Cartier was known to include animals in its jewelry designs. Snakes and other reptiles had made their occasional appearances in bracelets, but Félix's request for her pet crocodiles to be immortalized in a piece of jewelry took extensive time and craftsmanship. It's believed that her commissioned crocodile necklace required months to assemble. Using 1,023 yellow diamonds, 1,060 circular cut emeralds, and two ruby cabochons, Félix's design is a meticulous rending of her beloved pets.
To pay tribute to the cinema legend, Cartier later debuted its "La Dona de Cartier" collection in 2006. The pieces include a reptilian-like Cartier watch and other hat tips to the diamond-encrusted crocodiles and snakes she had commissioned in the past.
María Félix worked with several artists across multiple disciplines, and while it's true she could count Diego Rivera, Frida Kahlo, Jean Cocteau, and Octavio Paz among her friends, only her pet crocodiles got to be immortalized in a necklace.