5 Best María Félix Films and Where to Watch Them Online
See what made 'La Doña' a legend.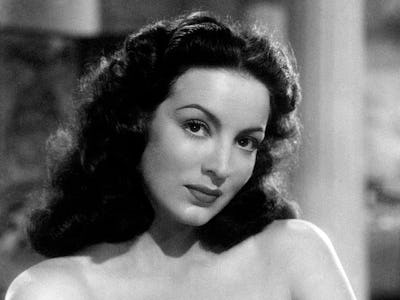 When María Félix, Sunday's Google Doodle, was first offered a role in film, she famously said, "When I want to, it will be through the big door." She wasn't wrong. Félix would become known as the first lady of Mexican cinema during the genre's golden age.
Félix rose to prominence in Mexican cinema at a time when the industry was earning critical praise for cinematography and dialogue. While many roles showcased her beauty and placed her in romantic roles, Félix was able to bring intelligent, domineering, and powerful female characters to the screen as well.
While her career reached its apex in the Forties and Fifties, Félix performed until the Seventies, and worked with filmmakers in Mexico, Argentina, Spain, Italy, and France. Beyond her 47 films, she also collaborated with artists across multiple genres and the breadth of her work is overwhelming. Here's a jumping off point to get better acquainted with the artistry of "María Bonita."
Doña Bárbara (1943)
María Félix would forever be known as "La Doña" because of her breakout role in this 1943 film. Based on the novel by the Venezuelan writer Rómulo Gallegos, this became Félix's first of many portrayals of an empowered female lead. Félix plays a woman who seeks revenge against the men who brutally raped her, and she does so with shrewdness and business acumen. The full length film is available on YouTube.
Maclovia (1948)
This 1948 romantic drama was one of the three films where she worked with Mexican director Emilio Fernández. After starring in his films Enamorada and Río Escondido, Félix plays the daughter of a leader in the Purépecha Native community who falls in love with the poor and lower-class José María Lopez, played by Pedro Armendáriz. The film received international acclaim and was celebrated at the 1949 Venice Film Festival. It can be streamed online at Pantaya.
La Diosa Arrodillada (1947)
In between making films with Fernández, Félix also worked with Roberto Gavaldón. Their first collaboration was in La Diosa Arrodillada, with Arturo de Córdova, a crime drama that explores infidelity. It was thanks to this film and her other work with Gavaldón that Félix caught the attention of European directors, and soon her fame crossed the Atlantic. Stream it on Pantaya.
Doña Diabla (1950)
Also known as The Devil is a Woman, the drama would be Félix's last film in Mexico before moving to Europe to star in roles in Spain, France, and Italy. Once again, Félix plays a femme-fatale seeking vengeance on the men who wronged her. The widely popular film was entered into the 1951 Cannes Film Festival. It's available online at Pantaya.
French Cancan (1955)
This French musical, directed by Jean Renoir and co-starring Jean Gabin and Francoise Arnoul, is considered one of Félix most important films from her time in Europe. Félix plays Lola, a belly dancer turned cancan star at the world-renowned Moulin Rouge. The film is not only remarkable for its visual references to French Impressionism, but it's one of the first French productions to return to France after the exile that began in 1940. Watch it on Kanopy.