The 20 Best 'If You Don't Love Me at My Worst' Memes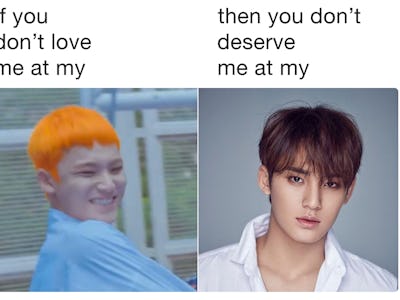 Twitter
What began as one fan's tweet using a famous fake quote to describe a K-pop band member is now a viral meme across social media.
Last week, Twitter user @creeperscult tweeted two side-by-side images of Kim Mingyu from the Korean group SEVENTEEN. One image shows Mingyu with unflattering orange hair, while the second is a bit better suited for the Korean heartthrob. Each photo is respectively captioned: "If you don't love me at my, then you don't deserve my."
The actual quote allegedly made famous by Marilyn Monroe goes: "I'm selfish, impatient, and a little insecure. I make mistakes, I am out of control, and at times hard to handle. But if you can't handle me at my worst, then you sure as hell don't deserve me at my best." However, Elle reports there's no source that can attribute that quote to Monroe.
The meme surged in popularity this week. Twitter, never one to miss an opportunity for viral memes, sprang into action. Inverse has rounded up 20 of the best the internet had to offer.
20. The Devil's Work
19. Earning Them Square Pants
18. Changing Physical Properties
17. Flavor Town Rescue
16. Making the Switch from the Wii U
15. Princess Touch-Up
14. Stealing Files Before Stealing Jewels
13. The Real Slayer
12. For the Toxic Avenger Fans
11. Getting Torched
10. Before the Beard
9. Right in the Poké-Feels
8. Before and After the Super Serum
7. A Winning Look
6. Game Changer
5. The People's Champ
4. Britney Did It Again
3. King of the North
2. Hunky Hercules
1. Perfection