Snapchat Debuts iPhone X Lenses With Hyper-Realistic Features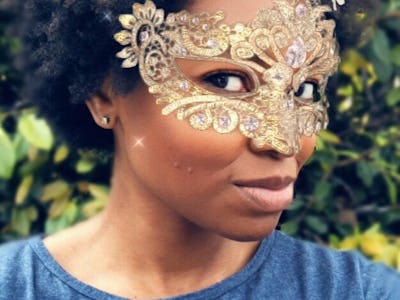 Snapchat
Snapchat on Friday gave iPhone users even more reason to consider investing in the X: AR Snapchat Lenses.
The lenses, which became available exclusively to iPhone X users within the app beginning April 6, will appear periodically in the Lens carousel. Among the lens features touted by Snapchat are closer tracking of facial movements for a more realistic appearance; highlights and shadows produced by objects that react to ambient light in real time; and improved depth detection that enhances features like background blur.
The lenses work with Apple's front-facing TrueDepth camera to bring the hyper-realistic features to life. The first of its early rollouts to iPhone X users included a wrestler mask, a gold mask with pink flowers, and a masquerade mask with gold flowers.
The company commented on the update in a press release to Inverse:
Snapchat Lenses turn sophisticated AR technology into playful experiences for our community, encouraging them to have fun and express themselves. TrueDepth and ARKit technology make augmented reality creation easier and more accessible, allowing the team at Snap to focus even more on building new, creative Lens experiences.
Friday's announcement follows additional Snapchat updates from earlier this week that included Mentions and Group Video Chat for Snapchatters on its Android and iOS apps. The app update allows up to 16 users to video chat at once, while up to 32 users can group voice chat. (Sidebar: Can you imagine?!) A Snap Inc. spokesperson told Inverse in a statement that it introduced the Group Video Chat feature "as a new way for Snapchatters to turn any group conversation into a real-time hangout at the tap of a button."
Friday's feature offers an exciting update within the platform to anyone possessing an iPhone X. For the rest of us, however, we'll have to settle with the prospect of mass group calls — assuming any of us know 32 people we'd want to talk to at once.