Snapchat Unveils New Group Video Chat and Mentions Features
You can finally tag your friends' handles.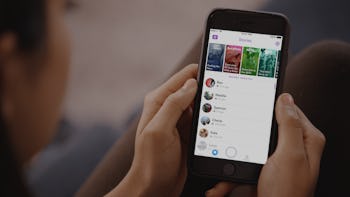 Snapchat
Beginning today, Snapchat will begin rolling out Group Video Chat and Mentions to Snapchatters on its iOS and Android apps.
The features addition announcement is the latest in a series of design updates Snapchat has made in the past few months, including a major overhaul of the app's interface design. After updating the app, users can start a group video call by tapping the video icon in an existing group chat. According to the company, users can have up to 16 friends simultaneously in a video chat, with each receiving a notification to join the call. If you somehow have even more friends who want to join a call, you can have up to 32 friends in a group voice chat, which can be initiated by tapping the phone icon.
"Our community is making millions of calls on Snapchat every day, and we're excited to introduce Group Video Chat as a new way for Snapchatters to turn any group conversation into a real-time hangout at the tap of a button," a Snap Inc. spokesperson tells Inverse.
Snapchatters can use the app's famed Lenses, like puking rainbows or dog faces, to connect with friends during group video sessions. Your squad can also toggle back and forth between video and voice. This update has been a long time coming, as Snapchat introduced Video and Voice Chat back in 2016, the company's spokesperson went on to say. The new video chat feature is yet another way users can casually (and ephemerally) ping their friends without the formality of texting or calling by phone. "For example, that's why when a friend opens Chat, their Bitmoji pops up to say, 'I'm here!' And why your Chat conversations aren't saved forever, by default," the spokesperson tells Inverse.
Snap Inc. is also introducing "mentions" as part of the same update, allowing users to tag their friends' handles, similarly to Instagram Stories' feature. You can tag friends in your Story posts by typing "@" and then enter their username. This will notify the users you've tagged them, and also allow your Story viewers to click on the tagged friend's profile. This marks a major step in the app's design because until now, there was no way for users to tag anyone on Snapchat.
The company confirms that Snapchat's group video chat and mentions features will be rolling out to users globally over the next few weeks.