The 20 Best 'American Chopper' Memes
Here are 20 of the most incredible examples.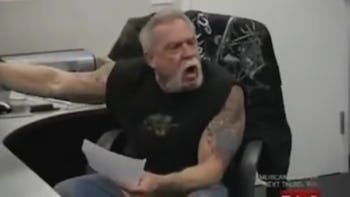 YouTube
A meme around the show American Chopper has become a smash hit on social media, and it's easy to see why. The simple format enables anyone to add in their own commentary and make it relevant to their lives — in a similar fashion to the It clown sewer meme, Evil Kermit and distracted boyfriend of yore.
The scene stems from the first episode in season 6 of the show, first aired in April, 2009, where Paul Teutel calls his son in to discuss his constant lateness. Things escalate, and Teutel Jr. is fired after a tense scene in which he throws a chair. The scene was a hit for its absurd humor and slapstick violence.
While it's been used as a meme for the past seven years, the format saw a resurgence over the past month after the show announced it's coming back to the Discovery Channel. The premiere, set for May 28 at 10 p.m. Eastern time, marks the end of a five-year absence from cable. Whether there'll be so much chair throwing remains to be seen, but Teutel Jr. says in the dramatic teaser that he's "working on trying to be friends again" with his father.
Either way, you don't need to be a fan of custom chopper motorcycles to get this meme. Here's 20 of the best:
20. Brutalism is Serious
19. When Cats Give You That Look
18. The Net Neutrality Fight
17. Ayy!
16. How The Cable Companies Lied
15. The Self-Service One
14. Cite Your Sources
13. Anne Boleyn
12. Not Quite Getting It
11. Neither Is This
10. Lord of the Rings Plot Holes
9. Heated Art History Debates
8. Relatable
7. The Descent Into Meta-Analysis
6. The Unsung Heroes of Star Wars
5. Harry Potter Gets Serious
4. The Limits of Science
3. Watch Out!
2. They Care About Each Other Really
1. Is the Meme Too Tall?