The 25 Best 'It' Sewer Clown Memes
All the hilarious ways that Pennywise will get you.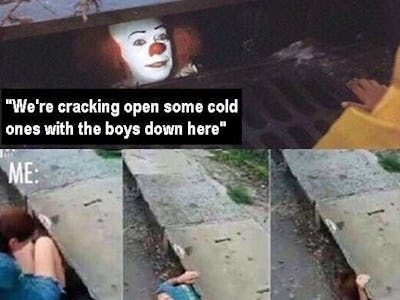 YouTube
The It trailer was so popular that it broke the record for most views in a 24-hour period when it was released last month. The remake of the 1990 mini-series, based on the novel by Stephen King, opens in theaters on September 8. Yes, Pennywise the Clown has returned to prominence both on the silver screen and in our nightmares.
An infamous scene from the 1990 mini-series has been memed in the weeks since the trailer for the remake hit the internet.
It's modus operandi of luring unsuspecting children into the sewers has because one of the most enduring symbols of terror in our popular culture. Pennywise, the clown-form that the being is best known for assuming, is responsible for engendering a lasting fear of clowns in more than one of us as kids.
But if the best and strongest defense against fear is humor, the internet has delivered in spades, turning Pennywise into a new favorite meme. The meme asks this question: How might Pennywise be able to entice you to crawl to your doom in the sewers? The pictures are taken from a previous film adaptation of the story, but the sight of pennywise is no less strangely hilarious for it.
Here are the 25 best It memes, also known as "How the Clown Will Get You in 2017":
25. Can't Say No to Some Miller High Life
24. Does That Make You a Bad Mom? Maybe. Is It worth It? Probably
23. Original Smash Bros., Anyone?
22. Sweet, Sweet Release
21. We All Know Someone This Would Work On
20. Talk About a Series of Unfortunate Events
19. The Guac Isn't Even Extra
18. Pennywise Has Rick and Morty
17. Just Have to Use the Magic Word
16. There's a Fury Road Joke in Here, Somewhere
15. Say No More
14. It's Burning Man Down There
13. He Probably Yanked George Costanza Down There, Too
12. Craw Daddies, You Say?
11. Make Room
10. Who Wouldn't?
9. He Probably Already Used Most of It
8. Yes
7. At This Point They'll Do Anything
6. I Didn't Know I Did Until You Asked
5. Sewer Shots?
4. Do You Have Eleven Down There?
3. Knowing Pennywise, He Maims Hanzo
2. Better Be the Good Kind
1. Down the Rabbit Hole — or Manhole, as It Were