'A Quiet Place' Monsters Terrified Fans Into Silence, Director Says
This thing stays with you.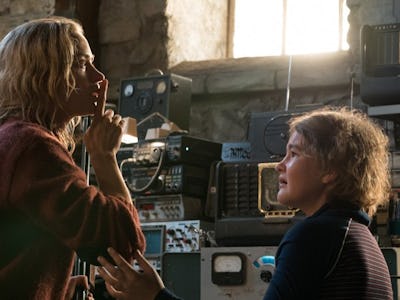 Paramount Pictures
With the official release of A Quiet Place just days away, the film's writer, director, and co-star John Krasinski is fully immersed in the film's press tour. While fans are by now well aware that A Quiet Place has scared its cast and early audiences half to death, Krasinski revealed this week that it has also been haunting its audiences long after they've left the theater.
Krasinski stopped by The Tonight Show to talk shop with Jimmy Fallon for an episode that aired Tuesday. Discussing the film's premise ("if they hear you, they hunt you"), Krasinski told Fallon that A Quiet Place so disturbed its viewers that they feared making noise at all — even after the film was over.
"People have been leaving saying they went to the bathroom, and like as soon as they turned on the faucet, they were like, 'No!'" he says. "On Twitter, someone somebody said, 'I got in and my boyfriend turned on the radio, and [I] said: Are you nuts?!'"
For his part, Fallon seemed to agree. "I told you last night my review was that I had nothing to watch after [A Quiet Place] to make me get out of this crazy — I was so frightened," he says, jokingly adding: "Dude, I watched a rerun of Gilmore Girls just to get me through, just to get me to a happy place. Whoever designed this monster alien thing …"
Glimpses of that so-called "monster alien thing" surfaced fleetingly in the film's last pre-release trailer, which dropped Monday. In it, the noise-hating creatures appear relatively large, hyper-fast, and perhaps not unlike something straight out of the Cloverfield multiverse.
For those looking to brave Krasinski's critical darling in theaters — and you should, it has an almost perfect score on Rotten Tomatoes — the film premieres Friday. For everybody else, maybe wait it out for his hoped-for Fantastic Four role.