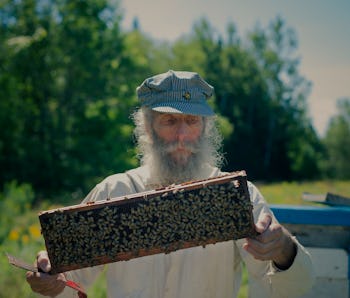 Burt Shavitz of Burt's Bees Led a Controversial Life Built on Beeswax
Shavitz passed away on Sunday at the age of 80.
www.burtsbees.com
If you ever wondered who was the bearded visage that placidly stared back at you from your Burt's Bees products, then you'll know now. Burt Shavitz, otherwise known as "The Bee Man" and the co-founder of Burt's Bees all natural products, passed away Sunday night at the age of 80.
The company released the following statement on its website: "Burt Shavitz, our co-founder and namesake, has left for greener fields and wilder woods. We remember him as a bearded, free-spirited Maine man, a beekeeper, a wisecracker, a lover of golden retrievers and his land. Above all, he taught us to never lose sight of our relationship with nature. Thanks for everything, Burt. You will live in our hearts forever."
Born in Great Neck, NY in 1935, Shavitz was originally a news photographer that covered the Civil Rights Movement in the 1960s. Following a nasty rainstorm, a chance encounter with a swarm of bees led him to becoming an all natural product entrepreneur following
He recounted the incident to the Daily Beast in 2013: "A guy that I'd been buying honey from, who was a beekeeper, had given me everything I needed to be a beekeeper except the bees—a hive, a mask, gloves, a smoker, a hive tool, everything. So, there was this fencepost, and I said, 'My lord, this is an act of God! I can't turn this down.'"
He soon met artist Roxanne Quimby, who made and sold candles out of his beehive's unused wax, and the pair decided to make a business out of it. By 1991 the brand began selling its best selling Beeswax Lip Balm, and the company continued to grow from there.
Shavitz was unceremoniously pushed out of the company in 1999, with a buyout from Quimby for the relatively paltry sum of $130,000. She eventually sold the company in 2007 without Shavitz to Clorox for $900 million, and had Shavitz held on to his stake in the company it would have been worth about $59 million. That's a whole lot of beeswax.
After selling his stake, Shavitz remained a semi-official brand ambassador for the company he co-founded, but lived the relative quiet life in a house in Maine and was most recently the subject of the movie Burt's Buzz, a documentary about his life.