Girlfriend Chooses 'Infinity War' Over Senior Prom, Internet Agrees
Some things just aren't worth missing.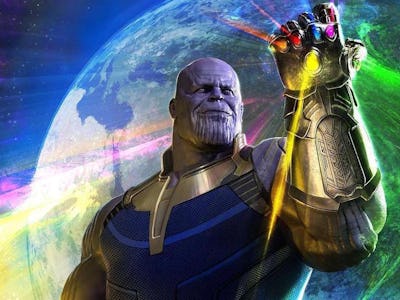 'Avengers: Infinity War'
Avengers: Infinity War is almost here, and one couple on Reddit has received widespread praise for their decision to skip senior prom just to watch the Marvel blockbuster. A user called "avery7840" shared a screenshot of an iMessage conversation that reveals how, for some people, the Avengers joining with the Guardians of the Galaxy is a moment too good to pass up.
Opting instead to go to the theater on April 27, the couple have decided to make it a night to remember by getting dressed up, having dinner and heading to see the sequel to 2012's The Avengers, making sure in the process to "take pictures opening night in our formal attire in front of a movie poster." The post has nearly 6,000 upvotes on the Marvel Studios at the time of writing, with comments telling the user to "marry her as soon as you are able," "put a ring on it" and "wife her up." The couple won't be missing out on a key life moment as they went to prom last year, but one user noted that missing out on senior prom is also an experience that only happens once.
Hype for Infinity War is nearing fever pitch, the culmination of half a decade's anticipation as the Marvel Cinematic Universe builds to this showdown. Tony Stark declares in the trailer that "it's all been leading to this," and a March 2017 report suggested it will potentially take the record as the most expensive film ever produced. Little wonder that some may decide to skip the dance just to witness the moment.
"The reason she was going to go in the first place was because of a girl friend of hers that asked her to go with her and then decided to get a date," the user wrote. "Instead we have decided to dress up, take pictures, have a nice dinner, and get ice cream before seeing the movie opening night. We mutually agreed to make it a night that was fun for the both of us and was memorable in our own way."
Infinity War hits theaters in 25 days time, a release date decision that's caused other films like Rampage and I Feel Pretty to move their releases just to avoid competing.
"We both appreciate all the love we have gotten from you all," the user wrote. "We hope you all have a great experience with the movie as we know that we will."