'Infinity War' Prompts Blockbuster Romance Movie to Change Release Date
'Rampage' is retreating from the Avengers' opening weekend.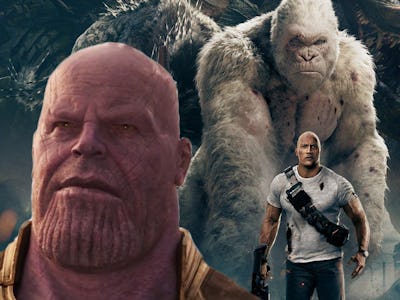 New Line Cinema/Marvel
They say that true love endures, but it appears that the romance between Dwayne "the Rock" Johnson and a giant albino gorilla might not be strong enough to endure Thanos's wrath. At least, that's what the studio behind the new romance film Rampage think, because they've changed the release date to avoid having to contend with Avengers: Infinity War on the Marvel film's recently changed opening weekend.
Rampage, a movie based on a video game about destroying cities that instead focuses on the emotional bond that connects two primates, was originally slotted to open on April 20. However, Infinity War made a last-minute change and moved up its release date by a week to April 27. Because Infinity War, a movie that Marvel has been building up to for years, is going to demolish all the competition, the studio behind Rampage wanted to give their thoughtful romance film a bit more time to breathe. Now, Rampage will premiere on April 13.
Infinity War is causing all sorts of problems for other movies that would like to, if it's possible, please make a little bit of money at the box office before the Avengers kick their asses. Comedian Amy Schumer announced that her movie I Feel Pretty would be changing its premiere date from April 20 to April 20.
For action fans, get excited biggest MCU movie yet will premiere a little earlier. For more mature fans who prefer a drama of the heart, take comfort in knowing that Rampage will get a chance to explore the twists and turns of the Rock and a big gorilla's relationship when it hits theaters with a little more breathing room.
Rampage comes out on April 13, Infinity War opens on April 27.