'Arrow' Star Says 'Black Lightning' and Arrowverse Crossover Is Inevitable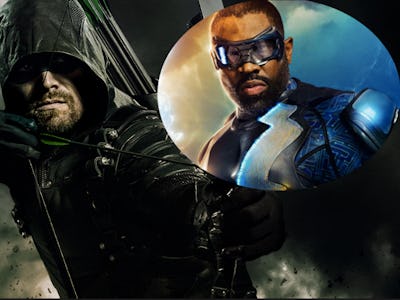 The CW
The introduction of the multiverse on The CW's Arrowverse has literally made the universe's possibilities endless. Characters with their own worlds and adventures have joined Arrow and The Flash, heroes saving the day on the same version of Earth. That means while Black Lightning was created separate from the rest of the Arrowverse, its characters could eventually meet the heroes of the universe. And, according to one CW star, it is a matter of when and not if it happens.
During a panel at Awesome Con in Washington D.C. over the weekend, Arrow star Stephen Amell answered a question about Black Lightning appearing with the other heroes of the Arrowverse. According to Comicbook.com, Amell said he thinks a crossover is in Black Lightning's future.
"Everyone pretends like we're not going to eventually cross over with Black Lightning but we're probably gonna cross over with Black Lightning because that's just the way that the world works."
Having first been developed at Fox, Black Lightning was not initially conceived as an extension of the Arrowverse. In fact, CW President Mark Pedowitz explained to Black Girl Nerds that the show was "was different from all of our other superhero shows and it was never designed to be apart of the Arrowverse."
Supergirl had a similar trajectory. It was initially a CBS drama and wasn't created out of an existing Arrowverse series, like The Flash and Legends of Tomorrow were, but eventually, Kara Danvers was brought into the Arrowverse. First through a crossover with Barry Allen's The Flash then into the following year's big Arrowverse crossover, although generally Supergirl takes place in a different universe than the other three shows.
Black Lightning has not completely ignored the existing universe though. An early episode explained that the heroes of DC existed in the pages of comic books. Then recently, Arrowverse heroes Vixen and Supergirl got namechecked during a conversation between Lynn and Jennifer Pierce.
Well, if the crossover does happen at least Black Lightning is aware of the others. He just doesn't think they are real, so he'll be in for quite the surprise.
Black Lightning airs Tuesdays at 9 p.m. Eastern on The CW.