Elon Musk Shares Tesla Autopilot Video That Shows Incredible Progress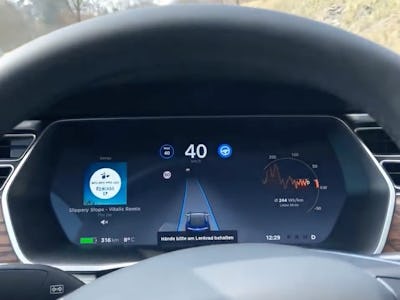 Autopilot Perfect/YouTube
Elon Musk is not standing still. On Sunday, the Tesla CEO shared on his Twitter page coverage about the company's semi-autonomous Autopilot mode, which has seen great improvements through a series of software updates. The YouTube video shows a Tesla Model S tackling Vienna's Höhenstrasse in Austria, described by the car owner as "the crappiest road."
The video shows Autopilot version 2018.10.4 tackling the hilly road with ease, avoiding obstacles and warning about forward collisions ahead of time. The update has received widespread praise from owners, and the company's A.I. Director Andrej Karpathy revealed last month that improvements in this recent update are the result of a "fairly extensive" software rewrite. Tesla explained in its fourth-quarter 2017 update how the system will receive extensive boosts thanks to a neural net that collects and analyzes customer data. It's all part of Tesla's plan to gradually develop a fully autonomous driving system.
Tesla's updates have not gone unnoticed in the community. In February, a Tesla Model X owner called Mike demonstrated how his Model S P100D loaner car is now capable of tackling a Virginia highway stretch dubbed the "curve of death." Another video uploaded in late March showed how the latest update enables autonomous driving even when lane markings disappear, demonstrating how the system is slowly becoming more capable of making human-like decisions about car positioning.
The updates form the basis of Tesla's long-term plan to power a fully autonomous solution at a later date: Customers that purchase a Tesla after October 2016 will receive a vehicle with the necessary cameras and sensors to enable full self-driving through a paid update, either through a software update or a larger change that involves switching out the onboard computer. Musk told investors in the company's fourth-quarter earnings call that coast-to-coast autonomous driving could arrive this year.
While autonomous driving before the end of the year would be impressive, Musk made a similar promise before to roll out the feature in 2017. The company missed this deadline as, in Musk's words during the investor call, it would have necessitated a "somewhat brittle" solution that would only work for a limited number of routes.
If Musk is right, Tesla's Autopilot could start improving at an exponential rate similar to other artificial intelligence solutions.