'Bill and Ted 3' Is Like 'A Christmas Carol,' Which Doesn't Tell Us Much
'Christmas Carol' is, like, the original time-travel story.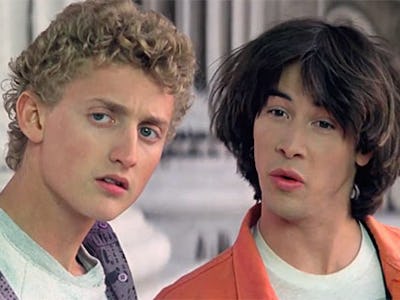 Orion Pictures
Bill and Ted, famously, had an Excellent Adventure, but it appears the time-traveling slacker's most epic quest is actually getting a third movie in the franchise off the ground. In a new interview, stars Keanu Reeves and Alex Winter gave an update on the status of the long-awaited, much-delayed film, and offered up a sneak peek at what the plot might be. Turns out, it's kind of like A Christmas Carol, which is surprisingly not that revealing.
In an interview with Entertainment Weekly, the two actors, along with Bill & Ted's Excellent Adventure writers Chris Matheson and Ed Solomon, explained how they've come tantalizingly close to getting a third movie off the ground.
"We've been to the altar a few times," Solomon told EW, explaining that studios keep saying "nevermind" at the last minute. "We get rejected right about the 'now you may kiss the bride' part of it," he continued.
However, the two writers, with input from Reeves and Winter, wrote a spec script for the third movie, titled Bill & Ted Face the Music. According to Matheson, it's about how even though Bill and Ted were destined to save the world with their music, they've turned 50 and haven't, you know, saved the world yet. That causes them to reflect on what they've accomplished and if it's worth trying to fulfill their destiny.
"I think it's kind of like A Christmas Carol with Bill and Ted," Solomon said. "Looking at their lives, and really kind of rediscovering what they're about."
That's pretty cool, but it's worth noting that, pretty much every story involving time travel is kind of like A Christmas Carol. Charles Dicken's 1843 novella is one the first depictions of forwards and backward time travel in popular culture. It's rare that a character gets a look back at their own past and doesn't feel some sort of regret or aching feelings of nostalgia.
In any case, there might finally be a breakthrough on the Bill & Ted 3 front. Winter says they found a director, Galaxy Quest's Dean Parisot, and they're hoping to have good news from some financiers in a couple month. Until that time, though, just be excellent to each other, and party on.