'Bill & Ted 3' Is Happening, Alex Winter Promises
All we want is Winter and Keanu Reeves to be excellent to each other for a third time.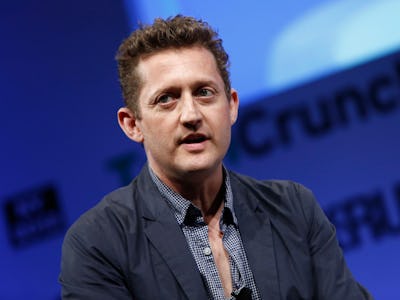 Brian Ach / Getty
Filmmaker and former Wyld Stallyns lead guitarist Alex Winter caught up with Forbes to talk about his new crowdfunded documentary on music icon Frank Zappa, and while the campaign met its goal, Winter, who is an established director in his own right, offered some definitive hints on revisiting his most famous role in Bill & Ted 3.
It's been over two decades since Bill S. Preston, Esq. and Ted Theodore Logan graced the screen with some sick guitar solos and time travelling adventures, and this year even marks the 25th anniversary of Bill & Ted's Bogus Journey. Over the years, both Winter and co-star Keanu Reeves have offered hints about the possibility of a threequel, but Winter confirmed they're committed to making the third installment of the series happen even though it makes you wonder what 50-year-old Bill and Ted would be like.
Winter told Forbes:
"It's looking good. This is Hollywood so I don't believe it's happening until it's coming out on VOD but we're all working on the film everyday at the moment in terms of the pre-prep type work so it's an active project. Hopefully we'll be shooting it shortly."
So it's a definite maybe? Winter was asked if they could start filming this year or sometime in 2017, to which he replied,"Hopefully the former, possibly the latter." Again, not that definitive but we can dream.
At least one main creative hill for Bill & Ted 3 has been climbed. The script, by series screenwriters Chris Matheson Ed Solomon, is set to go. Winter said:
"We've been working on it for, like, six years. We're knee deep in the script, it's been written by Chris Matheson and Ed Solomon who wrote the first two, they are fantastic writers, and the script is great. We have a script, we have a director, we have a studio – we're just trying to nail down a start date."
There we go. All they need is a start date and the Wyld Stallyns would be back onscreen again. The problem is — like every decade-delayed return to a once-popular movie series, figuring out the time to do it. Apparently the director Winter mentioned, Dean Parisot, better known for helming Galaxy Quest, is good to go, but Winter himself has to make his Zappa doc, called F@% Is Frank Zappa?* first.
That project is up to Winter's discretion, but the biggest hurdle is Reeves, who's busy kicking ass while filming John Wick: Chapter Two. According to his IMDB page he'll probably be busy for the foreseeable future too. He's filming director Marti Noxon's debut called To the Bone, he's in pro-production of two sci-fi action movies called Replicas and Rally Car, he's set to appear in a TV mini-series called Rain, and he's also filming a TV show called Swedish Dicks.
Reeves is a busy man, and so is Winter. But maybe the pair can find some time to be excellent to each other, and revisit their beloved bone-headed southern California duo a third time.