'Unfortunate Events' Season 3: Fire Survivor Isn't a Baudelaire Parent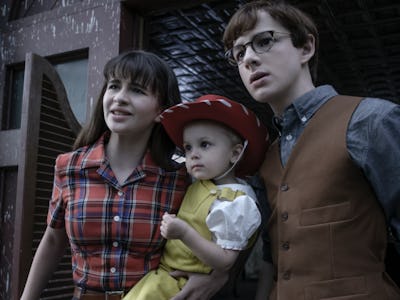 Netflix
The second season of A Series of Unfortunate Events on Netflix really wants you to think at least one of the Baudelaires' parents survived that terrible fire in the very first episode. But, that's not the case. Fans will meet the "survivor of the fire," in season 3 of the Netflix show, but it's not who you think it is, and it's a different fire. (Spoilers ahead!)
On Friday, all ten episodes of the second season of A Series of Unfortunate Events hit Netflix. For fans of the books, there were prominent changes to the character of Olivia Caliban, even if her grisly fate was the same. The series also introduced Allison Williams, who will almost certainly be playing Kit Snicket in the third and final season of the show. So what's up with all of this talk of "the survivor of the fire?" In the third season of the show, Violet, Klaus, and Sunny will meet this person.
In the next book in the series — The Slippery Slope — the Baudelaires discover that the third Quagmire triplet, Quigley, did not in fact die. He is the survivor of the fire that destroyed the Quagmires' home, not the Baudelaires' home. In other words, this is another fake-out, exactly like in the first season, when you believe that "Mother" and "Father" are the mother and father of the Baudelaires, when in fact, they are the parents of the Quagmires.
Despite being book series ostensibly for children, both A Series of Unforntaute Events and All the Wrong Questions sport impressive and unpredictable plot twists, even if everything does feel a little outlandish.
The introduction of Quigley in The Slippery Slope is not only awesome because it deepens the mysteries of the stories, but it also provides a little bit of romance! There's definitely a crush situation between Violet and Quigley in that book. It remains to be seen how the series will handle it.
Speaking to the camera, Lemony Snicket might say that the final scenes of this season are a cliffhanger, but for those who have read the books, the survivor of the fire is one of the best twists of the whole series. - A Series of Unfortunate Events season 2 is streaming now on Netflix. Season 3 is currently filming.