'Unfortunate Events' Season 3: Allison Williams Secret Character Explained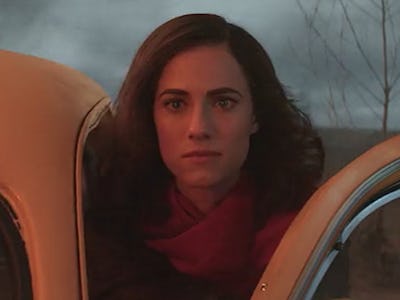 IMDB/Netflix
In the final scenes of the last episode of the second season of A Series of Unfortunate Events, narrator Lemony Snicket admits that even he doesn't know the identity of the agent who originally was originally undercover as "Madame Lulu" at the Caligari Carnival, but he says he's told he "knows her very well." And as actress Allison Williams steps out of that taxi cab, fans are probably wondering; who is she? But if you're read the books, you totally already know. (Spoilers ahead!)
The ending of the second season of A Series of Unfortunate Events will certainly leave fans wondering what to expect for season 3. But one big mystery — the identity of that taxi driver played by Williams — is easily found by peeking at the original book series. Beyond a shadow of a doubt, Williams is playing Kit Snicket, the sister of Lemony Snicket (Patrick Warburton) and Jacques Snicket (Nathan Fillon). Kit is a huge deal in the final four books in the series, and in the very last book — The End — she gives birth to a child that the Baudelaire orphans actually end up adopting!
Back on March 20, Netflix announced that Williams had joined to cast via Twitter. On that same day, Variety reported the exact details of her role were "being kept under wraps." The end credits of the last episode don't actually credit Williams or state she's Kit Snicket outright but come on, she totally is Kit.
Though Kit appears prominently in the last three books of A Series of Unfortunate Events, she also is part of the backstory of the four-book prequel series All the Wrong Questions. In those books, Lemony Snicket is basically a pre-teen, narrating adventures he had long before the birth of the Baudelaires. All the while, his sister is waiting for him in secret underground tunnels to perform a top-secret mission with Lemony is totally late for.
The addition of Allison Williams as Kit Snicket sets up the third season of A Series of Unfortunate Events for a lot more action, but a lot of drama, too. If the Netflix show continues to follow the plots of the books, Kit will be pregnant and end up dying! The silver lining is that her daughter becomes the defacto fourth Baudelaire child, the subject of exactly half of the mysterious book, The Beatrice Letters.
It is of course, possible that Williams is NOT playing Kit, but instead, some other character. Though, because the series has followed the books so closely, it seems almost impossible that this wouldn't be the case. - A Series of Unfortunate Events season 2 is streaming now on Netflix. Season 3 is currently filming.