'Unfortunate Events' Librarian Olivia Caliban is Different From the Books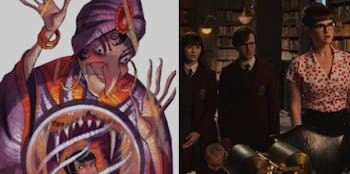 Netflix
Though the Netflix steampunk/comedy adventures A Series of Unfortunate events is infinitely more faithful to the Lemony Snicket books than the 2004 Jim Carrey film adaptation, it still has significant additions to the mythos of the Baudelaire orphans and the secret organization, V.F.D. And in the just-released second season, the biggest and best addition is easily heroic librarian turned V.F.D agent, Olivia Caliban. But, the Olivia of the Netflix series is not only completely different than she was in the books, she's way better. (Beware, spoilers ahead!)
On Friday, Netflix released all ten episodes of the second season of A Series of Unfortunate Events. These episodes adapt the books Austere Academy, The Ersatz Elevator, The Vile Village, The Hostile Hospital and The Carnivorous Carnival. Not only are these stories significantly darker than the first season, they're oddly more fun, too. And perhaps the most exciting and fun addition is Sara Rue as Olivia Caliban, a well-meaning librarian who gets enlisted to become a "Volunteer" by dashing V.F.D. agent Jaques Snicket (Nathan Fillion).
In the books, Olivia Caliban only appears once, and even there, she's disguised as the faux-fortune teller "Madame Lulu" in The Carnivorous Carnival. But, the version of Olivia in the new Netflix show is basically a totally different character. True, she does end up donning the Madame Lulu disguise in the ninth and tenth episodes, but everything else about her, particularly the depiction her romance with Jaques Snicket is new.
What's refreshing and great about Olivia is that just like Jacquelyn in season one, Olivia provides an excellent adult character who isn't helpless or a villain. True, this was true of the book version of the character, too, but the new Olivia is a much bigger scene-stealer.
If you've watched all of season 2 (or read the books) you know what happens to Olivia: she gets eaten by a lion. This means the chances of the character returning are almost zero.
Still, part of the appeal of A Series of Unfortunate Events is that it doesn't screw around with killing characters off. When someone dies, they are actually dead. Even if they are noble librarians who moonlight as volunteer secret agents. - A Series of Unfortunate Events season 2 is streaming now on Netflix. Season 3 is currently filming.