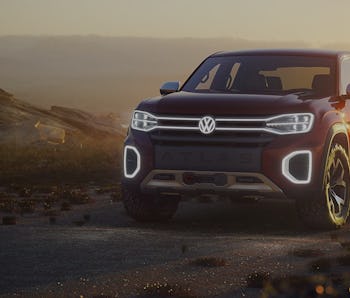 Innovation
Volkswagen Shocks Auto Show With Pickup Concept, And the Internet Wants One
Twitter
Automakers kicked off the New York International Auto Show with presentations of the newest vehicles. One company that stole the show was Volkswagen — but not with a new Beetle or Jetta. The German automaker has auto enthusiasts buzzing following its reveal of a Volkswagen concept pickup truck.
Volkswagen's Atlas Tanoak made its debut to applause on the show stage during the company's Wednesday presentation. The German-made pickup prototype has a sleek design both inside and out. Unfortunately for fans of the concept, the automaker currently has no plans to actually mass-produce their take on the truck. "Although there are currently no production plans for the Atlas Tanoak, Volkswagen is keen to gauge the reactions of buyers and media, since pickup trucks are one of the biggest volume segments in the US," Volkswagen said in a press release.
Volkswagen streamed the reveal on its Facebook page receiving positive responses. One watcher said, "Thank you, VW for answering our prayers with this truck, been waiting since 1982 for this now let's get it built!" Another kept it simple and said, "Build the truck!"
The Tanoak has a 3.6-liter V6 engine that pushes 276 horsepower and 266 pound-feet of torque, as reported by CNET. It sits five people in a double cab and has enough space bed space for ATVs or dirt bikes. The truck has a similar build to the company's Atlas SUV. One thing unique to the truck is the lights on the grill and the tailgate, which give it a futuristic look.
U.S. car buyers may not see Volkswagen's Atlas Tanoak on city streets anytime soon, but the automaker may use the reaction to the prototype as a gauge of whether it wants to jump into the pickup truck market against the big boys such as Ford and GMC.
To sum up why it developed a pickup truck, Volkswagen's head of design, Klaus Bischoff, said, "The pickup truck stands for everything the land of opportunity is all about."