Twitter Has Been Invaded by a March Madness Disney Bracket Meme
Where the hell is 'Tron'?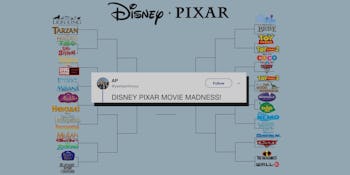 Twitter
The real March Madness isn't anything going on with NCAA basketball, it's a fight to the death between adorable Disney characters, all thirsty for each other's blood. A DIY March Madness-esque Disney movie bracket has just invaded Twitter. Here's what you need to know, including why Ducktales isn't on there.
Every March, in addition to actual March Madness, seemingly every topic under the sun gets involved with complicated grudge matches. Unbound Worlds does a cage match involving sci-fi/fantasy characters, and io9 once pitted every popular sci-fi movie against each other. So did Disney decide to get in on the action this March? Nope. That Disney Bracket you're seeing everywhere is fan-generated. And the responses to the bracket have created the latest spreading-like-wildfire Twitter meme.
On March 22, Twitter user @yeeitsanthonyy posted the image which seemed to kick-off the Disney Madness. To be perfectly clear, this guy had no idea the insanity he was about to start.
Apparently, the idea here was for people to fill in their own ideas as to how this bracket would play out. But instead, it's caused a tailspin of insanity. Including rival brackets that feature different types of Disney categories.
A lot of people have posted their results, seemingly taking the bracket at face value.
But that's not the real meme. The real meme is now when people take one of the brackets and simply paste-over which Disney movie should be the winner. In some cases, users are selecting a TV show, like DuckTales or Gargoyles. This is the new rule of the meme: the more absurd/fringe/underrated/actually bad your Disney movie bracket winner, the better.
And it didn't take long for it to feature non- Disney movies.
At present, there doesn't seem to be a version of the Disney Bracket that features a win for Tron, nor is there one that claims all the Star Wars movies as Disney movies, because technically, because of corporate purchases, they are. But, just wait, because the Disney Bracket is moving at lightspeed.