Tiffany Haddish's Turpentine Drinking Points to an American Medical Dilemma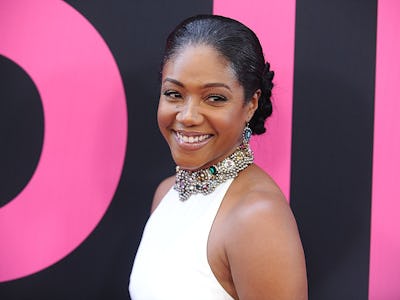 IMDB
In a profile released Monday in GQ, comedian Tiffany Haddish lays her life out with the intimacy of a good friend, dishing on celebrity gossip and discussing her rise to fame from foster care. Near the profile's end, she also offers up some questionable and controversial health advice: using turpentine, the volatile oil used as a paint and varnish thinner, as a medical aid. Turpentine is poisonous, but the reason why Haddish recommends it is just as much a problem of toxicology as it is of America's fraught history.
"A teaspoon of turpentine will not kill you," Haddish says in her interview with journalist Caity Weaver. "The government doesn't want you to know that if you have a cold, just take some turpentine with some sugar or castor oil or honey and it'll go away the next day."
Doing so is not medically advisable. "This is absolutely crazy," Sam Kacew, Ph.D., tells Inverse when asked about the use of turpentine as medicine. Kacew is the associate director of toxicology at the University of Ottawa. "As little as a tablespoon has caused death in children while four to six ounces produced fatal poisoning in adults."
Turpentine is a colorless liquid distilled from pine gum or pine wood, that can easily turn into a vapor or catch on fire. According to the National Institutes of Health, inhaling this vapor can cause nausea, vomiting, headaches, difficulties in breathing, or a loss of consciousness. If consumed, it can irritate the entire digestive system and injure the kidneys. The Centers for Disease Control and Prevention adds that ingestion is very likely to cause abdominal pain, convulsions, nausea, vomiting, and a burning sensation. Turpentine poisoning can lead to death in adults and children.
Of course, the ill effects of turpentine are no secret, as Weaver points out during the interview. Haddish responds that she doesn't trust the government's advisory and that a lack of health care forced slaves to drink turpentine as a cure-all for ailments.
Haddish is right: Turpentine was historically used as a folk remedy for many illnesses, ranging from sore throats to worms. Its continued use is a symptom of the very real legacy of African Americans being systematically abused by the medical system, which has led to widespread distrust.
"Home remedy use is an often overlooked component of health self-management, with a rich tradition, particularly among African Americans and others who have experienced limited access to medical care or discrimination by the health care system," a team of Wake Forest School of Medicine researchers wrote in a 2015 article in the Journal of the National Medical Association. "While some use is likely helpful of benign, other use has the potential to interfere with medical management or disease."
Turpentine is included in the area of home remedies that can cause immensely negative results, yet, as Haddish mentions, it's still widely discussed as a remedy in certain circles. One of the most prolific purveyors of turpentine as a remedy is Jennifer Daniels, a former doctor who lost her medical license for endorsing turpentine therapy. In a blog written by University of North Carolina archivist Biff Hollingsworth on turpentine's use as a medical treatment during the Civil War, the comments are full of people discussing their own use of turpentine as a preventative aide.
But the fact remains that numerous studies demonstrate that turpentine is toxic and can be lethal. If you do swallow turpentine, experts recommend drinking several glasses of water, do not throw up, and to seek medical attention immediately.