Finally, an 'Agents of SHIELD' Character Will Be in an MCU Movie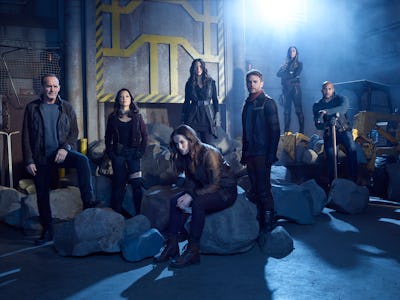 ABC Television
Fans of the Marvel Cinematic Universe are about to see an old face once again. At least, those who haven't kept up with all five seasons of Agents of S.H.I.E.L.D. Because Phil Coulson will return to the cinematic side of Marvel in 2019's Captain Marvel.
On Monday, Marvel announced the beginning of principal photography in Los Angeles for Captain Marvel, which will soar into theaters on March 8, 2019. In the press release, Marvel lists Brie Larson, Samuel L. Jackson, and Guardians of the Galaxy players Lee Pace ("Ronan") and Djimon Hounsou ("Korath," the "Who?" guy). But perhaps the biggest surprise is the return of Clark Gregg, who is known in the MCU as S.H.I.E.L.D. agent Phil Coulson.
Because Captain Marvel will be a period piece set in the nineties, familiar, it's likely that returning characters like Nick Fury (Jackson) and Phil Coulson (Gregg) will appear younger, and, presumably, with both sets of eyeballs.
From 2008's Iron Man until 2012's The Avengers, Coulson was one of the most crucial connecting threads across all the movies, until he was killed by Loki, and upon his death motivated the Avengers into action. However, since 2013 — and away from the Avengers' radar — Coulson was resurrected and led his own team, in the ABC series Agents of S.H.I.E.L.D.
But aside from a handful of references and appearances by Jackson's Nick Fury and Jamie Alexander's Lady Sif, S.H.I.E.L.D. has been independent of the film side of the MCU. None of the Avengers have physically appeared in the TV series. And it's been years since any of the Avengers acknowledged Coulson and his death in the films.
Captain Marvel will change that, at least in small ways, While Captain Marvel will introduce a new hero in a new movie, its 1990s setting means it will probably have a younger Nick Fury and a younger Phil Coulson. It's unclear if what happens to Coulson in the Nineties will have any bearing on the present-day MCU. Maybe Captain Marvel will ask where her old buddy Coulson is when she shows up in current continuity.
While there still appears to be no plans for a full-fledged crossover between the films and TV shows like Agents of S.H.I.E.L.D., the return of Coulson to the big screen will be a welcome one. 
Captain Marvel will be released in theaters on March 8, 2019.