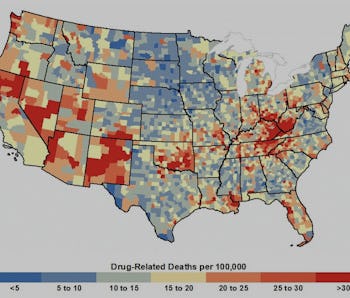 Culture
This Map Shows Where the Most Drug-Related Deaths Happen Across the U.S.
Study suggests economic factors play a role.
Shannon M. Monnat
Drug-related deaths are a national crisis in the United States, but some parts of the country bear a heavier burden than others. As part of the first national study of county-level differences contributing to the drug epidemic, researchers now have a map of drug-related mortality rates across the continental U.S.
According to Shannon M. Monnat, Ph.D., Associate Professor of Sociology and Lerner Chair for Public Health Promotion at Syracuse University, drug deaths are not randomly distributed across America but rather are tied to social and economic factors. Her study, which was published in the American Journal of Preventive Medicine on Monday, suggests that addressing social and economic conditions in the most affected areas will be key to reversing the tide on drug-related deaths.
"Opioids are a symptom of much larger social and economic problems," she said. "Just as other chronic diseases have underlying social determinants, addiction is also a social disease."
Between 2006 and 2015 there were more than 515,000 deaths from drug overdoses and other drug-related causes. Dr. Monnat used data from the U.S. Centers for Disease Control and Prevention (CDC), the Census Bureau, Department of Agriculture Economic Research Service, Agency for Healthcare Research and Quality, and the Northeast Regional Center for Rural Development to examine these deaths alongside economic backgrounds, as well as access to healthcare and social environments.
While the country's overall average drug-related mortality rate was 16.6 deaths per 100,000 population, Monnat found that there were substantial geographic differences, with some areas reaching over 100 deaths per 100,000 people.
Analysis showed that average mortality rates were significantly higher in areas with greater economic and family distress. Counties that were economically dependent on mining or counties with high family distress (such as single parent families) could reach an average of eight more deaths per 100,000 than other regions. Meanwhile, the counties that were least affected by drug-related deaths tended to have a greater percentage of recent immigrants, a larger presence of religious establishments, and/or economies reliant on public sector employment.
"'Addiction does not discriminate' is a soundbite that ignores the reality that overdose rates are highest in economically distressed communities, particularly places that have experienced declines in job opportunities for people without a college degree," Monnat said. Looking at the map, high mortality rate clusters are found in Appalachia, Oklahoma, parts of the Southwest, and northern California. Low mortality rate clusters can be seen in parts of the Northeast, the Black Belt, Texas, and the Great Plains.
Noting that the drug epidemic is a pressing concern among policymakers, Monnat hopes that her study will be used to combat the drug epidemic by identifying the social and economic factors that play a role. "We need to get real with ourselves about the U.S. drug problem."