Apple Unveils 13 New Emoji That Highlight Accessibility
The new emoji are pending approval.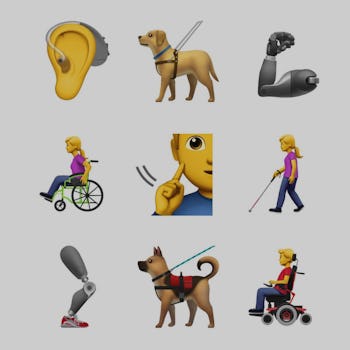 @emojipedia
Apple proposed a category of "accessibility emoji" in the company's submission to the Unicode Consortium on Friday. The category was developed to better represent people with disabilities and includes a suite of images ranging from hearing aids and service dogs to people in various types of wheelchairs.
The Unicode Consortium governs the use of emoji, and Apple will not be able to include the new images in its iOS and Mac OS roster until the consortium approves them. To prepare a submission, Apple worked with the American Council of the Blind, the Cerebral Palsy Foundation, and the National Association of the Deaf to develop images that can better depict people who are not yet represented in the current catalog.
"One in seven people around the world has some form of disability," Apple said in its proposal. "The current selection of emoji provides a wide array of representations of people, activities, and objects meaningful to the general public, but very few speak to the life experiences of those with disabilities."
Apple notes that the proposed 13 images are "not meant to be a comprehensive list of all possible depictions of disabilities," but the new category is "an initial starting point." The company shared its rationale in selecting the emoji set and include images representing four main groups: people who experience blindness and low vision, people who are deaf and hard of hearing, people with physical motor disabilities, and people with hidden disabilities.
The Unicode Technical Committee will vote on whether to approve the emoji set next month. If the new images get approved, they will be shortlisted for Emoji 12.0, which is scheduled for release in March 2019. However, each proposal is reviewed by layers of committees before approval, with no guarantee of passing.
Still, Apple's proposal has seen an overwhelmingly positive response from the public, many of whom see the emoji set as long overdue. If the Unicode Consortium approves the set, the accessibility emoji group will arrive in iPhones as early as next year.