On World Water Day, Scientists Announce a Way to Farm H2O From Desert Skies
The innovation is making a splash.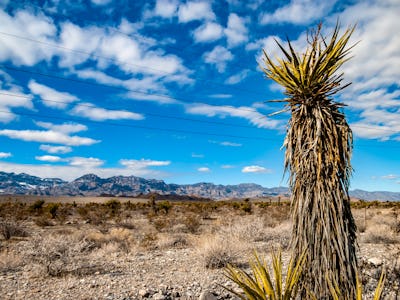 Flickr / Michel_Rathwell
Researchers at MIT had a reason to celebrate on World Water Day. The normally bleak event was created by the United Nations to remember the importance of freshwater and raise awareness for its dwindling supply, but on Thursday, researchers at MIT announced that they are closing in on the technology to get drinkable water directly from the driest desert air.
The new device was first proposed last year as a potential game-changer for bringing water to desert climates. Naturally, it drew a lot of attention. "It got a lot of hype, and some criticism," said Evelyn Wang, the Gail E. Kendall Professor at the Department of Mechanical Engineering, in a statement on Thursday. With that feedback in mind, the device has since been field-tested in Tempe, Arizona, with positive results. In a new report in the journal Nature Communications, Wang's team of researchers say their device is a success and can extract potable water.
The system, based on high-surface-area materials called metal-organic frameworks (MOFs), runs completely on solar power. The device is made with a foamy material that passively attracts atmospheric moisture via a special chemical coating. That moisture is then released as liquid water and collected on a cooler lower surface.
Wang's team of scientists claim that their system is better than previous tools for water collection, namely ones that collect from fog or dew. This new system can work at lower humidities than dew harvesting requires, and it doesn't need pumps and compressors that can wear out. Whereas dew harvesting requires observation and frequent maintenance, MIT's new device can act in a completely passive manner.
If the new and improved system were scaled up, researchers say its output would be equivalent to more than a quarter-liter of water per day per kilogram of MOF, resulting in three times as much output as originally thought possible.
MIT's announcement on World Water Day could not have come sooner. The World Bank predicts that by 2050, the water supplies of the Middle East, Asia, and Africa will take a devastating hit. This scarcity, exacerbated by climate change, could cost these regions up to 6% of their GDP. Were this new device to make its way to the desert, all it would need is a little sunlight to get working.