Bitcoin Was Just Used in First NYC Condo Sale, and There's More to Come
The cryptocurrency is putting roofs over heads.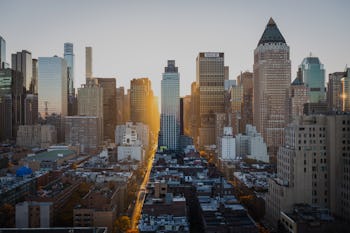 Unsplash / ben o'bro
Bitcoin is joining a new market. On Thursday, the world's largest cryptocurrency was used in a contract to sell two condos in New York City, which Magnum Real Estate Group developer Ben Shaoul claims is the first real estate transaction to use Bitcoin in the city — and he doesn't think it will be the last.
"I think it's wonderful," Shaoul tells Inverse. "It's another way for people to trade and it's obviously caught on and people believe in it. It's a very exciting time. How many times in your life will someone be able to be part of something as exciting as this?"
The two buyers are purchasing sponsor unit condos as part of the conversion unit on 389 East 89th Street. The first is a $1.48 million one-bedroom with a den that covers 989 square feet, while the other is a $875,000 studio that covers 624 square feet. BitPay, which Microsoft chose to power its online store for crypto payments in 2014, will take the money and convert it to dollars. The sales are expected to close within 30 days.
"We wouldn't invest the time and the money and people capital into it if it was going to be just for one [sale]," Shaoul says, noting the entire 89th Street project alone has a sell-out of over $250 million. "It's not just about accepting it, it's about recognizing who your buyer is with these projects and catering to your buyers."
After receiving a gradually increasing number of requests from brokers representing buyers wishing to pay with crypto, Magnum decided to make it happen. The company worked with the New York attorney general to ensure compliance with boundaries of the offering plan. It was a long process, as it also involved confirming with the banks and lenders. Shaoul anticipates "many, many more" companies following "over the next couple of months" as part of a wave of crypto-estate deals.
"I've got a couple of deals in negotiation where the purchases are asking whether they can pay with Bitcoin," Shaoul says. "A couple of purchasers are asking about other forms of cryptocurrency, and now we're looking into accepting other forms."
Shaoul has spoken about this shift in the real estate market before. In October, he told CNBC that "our buyer has evolved" and "not everyone wants to trade in dollars or yen or euros." The following month, he told the Daily Express that he was "shocked" by how many people have Bitcoin. In December, he penned a story for the International Business Times titled: "Why Bitcoin Will Be The Future Of Real Estate." Ultimately, Shaoul sees accepting Bitcoin as a way of giving his buyers what they want.
"It's not just about accepting it," Shaoul says. "It's about catering to your buyers. You go into a shop and you wanna buy something, do you go to the shop you love to shop at or the one that doesn't give you good customer service?"