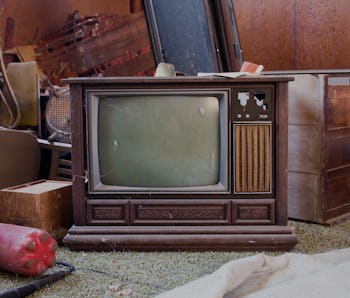 Entertainment
The Invasion of the TV Remake 
Since The Sopranos premiered some fifteen years ago, television changed into a hulking beast that now rivals its biggest competitor: the theatrical movie. A raft of high-quality, original shows ushered in a new era of small screen entertainment, if you fancied a gripping week-to-week serial. Unless the Ross-Rachel break up episode of Friends was showing somewhere on syndication. In which case, fair enough.
As is the case with trends - they fade. Aside from the anthology series format that's threatening to quash long-term narratives (oh no!) the other white-hot trend is to remake everything in sight. The '70s, '80s, '90s… no decade is safe from the pilfering fingers of the networks. Everything already remade? Then just resurrect a show from the pit of cancelation! Here's some on the way that look like worthy contenders.
'Fatal Attraction'
Yes, that classic '80s thriller in which Glenn Close victimises Michael Douglas' naughty philanderer after he spurns her further advances following a steamy encounter. Or two. The film spawned the phrase 'bunny boiler' and has now birthed a short-order event series, currently in the works at Paramount TV and Fox. Before you roll your eyes, the writing staff consists of Mad Men scribes Andre and Maria Jacquemetton.
'Damien'
The Omen is the story of Damien, the kid with an origin story way more horrific than any superhero, whose Satanic bloodline causes people to drop dead around him. His dynamic story (murder and mayhem) previously fell flat in remake form back in 2006, so he's getting another reboot. This version will follow the unaware devil child as an unaware adult. The Walking Dead's Glen Mazzara is at the helm of this one so there's hope that this spin could be bloodier than before.
'Minority Report'
This small screen sequel of Spielberg's 2002 movie will skip ahead ten years after the film's closing events to a world without the use of PreCogs - three individuals whose abilities are harnessed to prevent crimes before they happen. There's a new cop subbing for Tom Cruise's absentee John Anderton, and the pair of Precog twins who are still plagued by futuristic visions. Slap 'em together (precog + cop = new crime-fighting duo) and there's your show.
'Limitless'
By far the best bit of the Limitless movie was when the fictional NZT drug took hold of Bradley Cooper, and he transformed into a titan of knowledge, embracing information as a weapon that let him do anything. It looks like CBS' show hasn't forgotten that, as the trailer consists of just that: except it's not Cooper in the lead (although he does appear, as some sort of experienced crusty). The torch is passed to someone new, and to counter his activities, there's police presence in the shape of Jennifer Carpenter - aka Dexter's foul-mouthed sister Deb.
'Westworld'
Out of all the series on this list, Westworld holds the most promise. Reworking Michael Crichton's 1973 movie for HBO's next-big-thing are Jonathan Nolan (who calls it ambitious, subversive and fucked-up ) and J.J. Abrams. Crichton's fondness for theme parks where the attractions murder the visitors resurfaces with one that's populated by killer androids. Ed Harris, Anthony Hopkins, and Evan Rachel Wood star.
'Shutter Island'
HBO is behind this prequel series, taking place before the movie which starred Leonardo DiCaprio as a federal agent investigating a disappearance at an isolated mental hospital. Since first announced, there's been curiously little information regarding the show's progress. Languishing in development hell, perhaps? If it does push on Martin Scorsese is set to return to the director's chair, and the story will hark back to the goings on at the Ashecliffe institute before Andrew Laeddis' era.
'The X-Files'
The iconic '90s duo returns. FBI Special Agents Fox Mulder and Dana Scully are a couple of decades older than when we first met them, but no less rigorous in their approach to cracking cases involving werewolves, aliens, and their own burgeoning lurve. Early rumors (aka - hasty episode title interpretations) pointed to a popular season 2 story getting resurrected, but creator Chris Carter since said they won't recycle their monsters. The limited event series is currently shooting in Vancouver, and premieres in January.
'Twin Peaks'
Even though Laura Palmer promised us a revival, a skirmish over finances nearly stopped Twin Peaks in its cherry pie-lovin' tracks. Original co-creator David Lynch and the series' new home Showtime eventually reached an agreement, which extended the revival to 18 episodes. So - what will happen across those weeks? Well, the show's core cast is set to reprise their roles including Kyle Maclachlan's FBI guy Dale Cooper, who returns to the small Washington town to presumably crack another case.
'Ash Vs. Evil Dead'
The former Deadite hunter is coming out of retirement as a stock boy to battle a new threat caused by those pesky evil spirits. Which is all his fault. Bruce Campbell returns as the bumbling Ash along with writer-director Sam Raimi and producer Bob Tapert, for a new 10-episode series on the Starz network. The story picks up decades after Ash's last tussle with the demonic entities and will reunite him with his faithful chainsaw. Groovy.
'Heroes Reborn'
Season one of Heroes is a solid piece of superhero serial entertainment for those who have never read a comic. But its last three seasons wavered in quality, reflected by poor ratings and its eventual cancelation. Series creator Tim Kring still has more tricks up his sleeve, as he's kickstarting a new story with a fresh generation of gifted youngsters. It could wipe out the events of those latter seasons with a X-Men: Days of Future Past-style retcon, but the smattering of returning characters implies we're in for a story continuation. But without the cheerleader. Boo.