Trans Day of Visibility: Activists Explain What It Means to 'Be Seen' in 2018
"We're more than our oppression."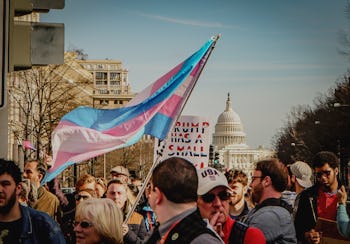 Flickr / tedeytan
International Transgender Day of Visibility is meant to be a day of celebration. Unlike November's Transgender Day of Remembrance, which stands as a day to memorialize the lives that have been taken by anti-trans violence, March 31 is meant to recognize the achievements and everyday experiences of the trans people who are still living and trying to thrive.
Inverse asked four trans activists what International Transgender Day of Visibility means to them. From Oakland to Montreal, activists working year-round to support trans people explained that transgender visibility, and a day to commemorate it, is about so much more than simply being seen.
Sign up for our newsletter to get the best of Inverse sent straight to your inbox. Click here to subscribe
Raquel Willis is a writer and national organizer for the Transgender Law Center. She is based in Oakland, and her advocacy — particularly for trans women of color — has led her to major speaking engagements, including the 2017 Women's March. ¶ Leo Sheng is a trans activist based near Ann Arbor, Michigan. In 2013 during his senior year of high school, Sheng started documenting his female-to-male transition on Instagram. From top surgery, to taking hormones, to detailing the changes of his body, Sheng says, "I wanted to share the changes with other trans folks, as well as my friends who followed me." ¶ Estelle Davis is an organizer with Montreal's Taking What We Need, a grassroots organization that raises funds to help low income trans-feminine people meet their needs. They also host events meant to foster the empowerment of trans-feminine individuals. ¶ Roxanne Anderson is a board member at the Minnesota Transgender Health Coalition in Minneapolis. They offer cost-reducing healthcare access to trans folks, including a peer-to-peer shot clinic for assistance with hormone injection, and act as a resource for other wellness needs.
What does Transgender Day of Visibility mean to you, personally?
Willis: It's a day for trans folks and gender non-conforming people to show up as their full self and celebrate as their full self. For a really long time, we really only had trans day of remembrance, some call it Trans Day of Resilience now, and it's a very important day, I often honor that day and honor all the trans people that we lose each year, however, trans people deserve to celebrate ourselves too. We're more than tragedy and we're more than our oppression. So TDOV, as people call it affectionately, is a chance to do that.
Sheng: I feel like, every year, I learn something new about myself. My views on advocacy and visibility have stayed pretty constant, but I find myself becoming more vocal about other areas of trans experiences. Visibility, to me, isn't just about our trans identity, but about the many identities that we hold — all of the parts that make us who we are: including our race, age, ability status, etc.
Davis: To be honest, it doesn't really register with me. Something that Taking What We Need tries to combat is the idea that visibility alone will change our condition. I think that trans people have always been really visible. I feel hyper visible when I go inside, and it's not a feeling I particularly enjoy. I think we're really visible because we're made to feel and embody this sort of grotesque, or freakish, or perverse feeling; that we're kind of perverse and on the fringes. We're made to feel bad about ourselves because of the way we look. But it's not to deny the power of visibility. I think we do need to be out living our lives and doing what we want and taking up space.
Anderson: For me in particular it's a day for folks to just be themselves. It's maybe akin to National Coming Out Day, for the larger LGBT community. It's about ensuring that trans folks can actually see themselves in the world.
What have been some of the bigger achievements for the trans community in the past year?
Willis: One of the major moments of course was election day in November, 2017, when we had a number of trans people elected to public office in the United States. One of my favorite mentors in the movement, Andrea Jenkins, a black trans woman, was elected to the Minneapolis city council. She became the first trans woman to serve on a major civic city and also Phillipe Cunningham, a black trans man, who was also elected to that city council. Danica Roem in Virginia, who became a state delegate.
Sheng: I think it can be hard to "look at the bright side," especially with our political climate. 2017 saw a lot of anti-trans legislation and social attitudes. I know Amiyah Scott's role on STARR marked a milestone for trans folks in the media, as well as Elliot Fletcher in Shameless. Also, a growing number of transwomen have spoken out in regards to the #MeToo campaign, which is incredibly important, as trans women are often disproportionately affected by sexual assault and sexual violence.
Davis: Before, transgender visibility was not on our terms; it was dictated by the media, which was out of our hands, or the medical establishment, which was out of our hands. These days when I see more and more transgender people of all kinds speaking for themselves… I feel like that a huge change that I've noticed even in the past five years.
Anderson: Just huge, huge strides. Right here in Minneapolis we've elected two out, transgender people of color into our city council. In Minneapolis I would mark that as one of the bigger impacts for our state, and as we saw with the press coverage of this, it makes an international impact, because trans people all over the world can see that they can be whatever it is that they're aspiring to be.
Looking at the year ahead, how do you think trans visibility might change? What are you hoping to see?
Willis: I am excited to see black trans women continue to be in leadership and continue to strategize on how to save ourselves, I don't have a specific instance or moment or any of that because I think that trans people have always risen to the occasion and will continue to.
Sheng: I'm hoping that more inclusive changed regarding trans health care come about in the next year. As it stands, few insurances cover the costs of trans-related medical needs. I also hope to see more trans folks of various racial and ethnic identities, as well as ability statuses in representation across movies and television shows.
Davis: In Montreal, in the past few months really, there's been a development in the queer community towards reimagining and re-embodying lesbian identity and experience and action. And that's been really cool to see. … Lesbian events and things that have been happening have been "trans integral" — they're not just including trans people, but in lots of ways they're being built by trans people. That's what I want to see across the board; grassroots organizing, community building and cultural expressions that are trans integral, where we don't ever have to worry if trans people are being included because we're directly a part of the movement.
Anderson: It would be really great if we didn't get hatred from the most high office. That would be something to strive for. What we'll see for the every day common person, they will see trans folks represented more and more in the media, in school curricula, and find that trans folks are just like every other human.
On Trans Day of Visibility, how can someone who doesn't identify as trans show their support of transgendered people?
Anderson: I think that the whole holiday is about celebrating trans folks, right? I would say, looking for those folks in their own community who are doing good work, who are striving to achieve their dreams. Whether that's an elected official or the person serving lunch at the school cafeteria, it's really about saying, "I see you, and I appreciate you as a human being."
Interviews have been edited for brevity and clarity.