8 Albums to Buy on Bandcamp This Weekend, to Support Trans Rights
Mykki Blanco and Charly Bliss number among the artists donating their Bandcamp proceeds to the Transgender Law Center.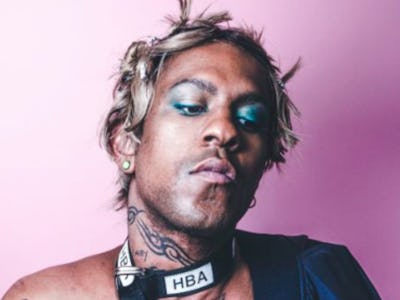 She Knows
Remember when President Donald Trump was elected, how many people predicted that his rise to power would inspire art from the resistance? A lot of pop punk fans were hoping, assumedly, for an album like American Idiot from a band like Green Day, which exploded in the wake of America's post-9/11 nationalism. Has it happened; has Trump and his white nationalist sympathies ignited the punk community in America? The answer is yes, though the musicians that took up that bright challenge don't look or act like Billie Joe Armstrong. The future is queer, and that fucking rocks.
Partly in response to the president's harrowing comments on transgender military members, Bandcamp announced a partnership with over 200 artists on its site, all of whom will donate at least a portion of their album sales proceeds to the Transgender Law Center on August 4. Many of the bands will continue to share their hard-earned cash with the organization through the weekend, so if you're looking for good tunes and you want to support queer people both in the music industry and outside of it, you're in luck.
Here are Inverse's 8 favorite bands whose albums you can buy on Bandcamp now. You can check out Bandcamp's full list of donating bands, and choose for yourself too if you want.
Martha
Martha, a pop punk band from Durham, U.K., has a classic, full-throated sound that recalls Britain's greatest rebellious acts. The band isn't on Bandcamp's list of donating bands, because they typically have their music set at "pay what you want", but this first week in August, they'll be donating their proceeds to [Gendered Intelligence](http://genderedintelligence.co.uk/about-us/the-team_, a British non-profit for queer advocacy run primarily by freelancers and volunteers.
Our fave track: "Move to Durham and Never Leave" from Courting Strong, a blistering, catchy track about being the last of your friends to move to a new city.
Pandemix
Hailing from Boston, Pandemix sounds a little sleeker than your average crusty Allston group, but they're too (satisfyingly) rough around the edges to be truly pop punk. Whatever. It's great, and their lead singer Shannon Thompson is one of the most watchable trans musicians in modern music.
Our fave track: "The Pornography of Hope" from Scale Models of Atrocities, an anthem for any member of an oppressed group who's fed up with gutless Democrats or what the band calls "performative liberalism".
Club Chai
Oakland's label, alt music collective, and radio show Club Chai curates dark party music from the Bay Area's most exciting womyn, queer, and gender non-conforming DJs, artists, and musicians. If you want to listen to music created by a diverse group of people who are committed to "diasporic narratives, women and trans artists", and you want that music to melt your face off, Club Chai is your jam.
Our fave track: "It's Over Bae (Florentino Remix)" by MAIELI. This is what young hackers listen to while dismantling the system from the inside, we assume.
HAMM
American theater has always been a home for queer artists, but no one highlights that connection with more arresting emotion than trans musician HAMM. Theda Hammel covers Broadway classics, using her ethereal voice and obvious gift with a synthesizer to make something transgressive and haunting from them.
Our fave track: Children Will Listen, HAMM's cover of a song from Sondheim's Into the Woods musical. Though it was originally written for a magical-realism romp on Broadway, HAMM's murky take on the track makes it sound like it was always intended to protect queer kids from bigots.
Mykki Blanco
It's difficult to describe Mykki Blanco to someone who hasn't seen her perform live. Blanco's aesthetic is equal parts militant, political rage and sensuality, and she experiments with sounds from pop, hip-hop, and trance with as much flexibility as she trades gendered clothing.
Our fave track: "Wish You Would feat. Princess Nokia" from Spring/Summer 2014, because the track allows Blanco to sound as righteously angry as she is sexy. Power in pop music comes in different forms, but on this track, Blanco is a pure, subwoover-vibrating, natural disaster. Blast this one at top volume.
Aye Nako
Aye Nako, by their own estimation, are a punk band "but not necessarily the power chord playing kind". Rocketing out of New York City, the queer foursome make bright and noisy music that sounds like it has something to prove.
Our fave track: "Sissy" from Silver Haze, an anthem for femme-presenting people of all genders. There's nothing like hearing the line "spit in my face" for the first time.
The Judys
The Judys, a supergroup from Vancouver, will donate the proceeds of their Greatest Hits album to the Trans Law Center. Their lyrics make simple arguments about queer people like the ones early punk bands snuck out into the zeitgeist in the 70s.
Our fave track: "Genda Blenda" from The Very Best of the Judys.
Charly Bliss
Charly Bliss is the brightest and most deliciously sugar-coated band on our list, but don't mistake their sweet pop sound for a lack of agency: this New York band hides their queer-friendly, anarchistic lyrics under sparkling guitar licks.
Our fave track: "Glitter" from Guppy. Are you your partner's true romantic ideal, or are you just the first person they met after coming out of the closet? Charly Bliss doesn't know for sure, but they make the worrying sound catchy.